By Damien Ward
CNN





LONDON, England (CNN) -- Britain's Prince Charles will follow in the footsteps of former U.S. Vice President Al Gore with an upcoming book and film documentary on the environment, the prince's publisher said.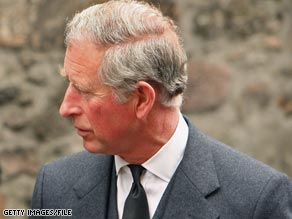 Prince Charles is famously opposed to genetically modified crops.
The book and film project, titled "Harmony," will be released in 2010, publisher HarperCollins said this week. Like Gore's "An Inconvenient Truth," it is expected to generate as much controversy as it will profit, the publisher said.
"I believe that true sustainability depends fundamentally upon us shifting our perception and widening our focus, so that we understand, again, that we have a sacred duty of stewardship of the natural order of things," Prince Charles said in a statement.
"If we could rediscover that sense of harmony; that sense of being a part of, rather than apart from nature, we would perhaps be less likely to see the world as some sort of gigantic production system, capable of ever-increasing outputs for our benefit -- at no cost."
The co-author of the book is former Friends of the Earth director Tony Juniper, who, since leaving the organization in 2008, has been critical of a number of celebrities who promote environmental issues.
Juniper criticized model Naomi Campbell and actress Sienna Miller for not practicing what they preach on the environment, and in an article he accused mogul Richard Branson of "jumping on the global warming bandwagon."
"The prince and I share similar views on issues of sustainability and the environment. He is in a unique position to express his concern for unsustainable economics, and is committed to highlighting the crisis of our disconnection from nature," Juniper told CNN.
A spokesman for the prince said the advance fee for the book, as well as an undisclosed share of the royalties from publisher HarperCollins, will go to the Prince's charitable foundation.
A children's picture book version will be released in 2011, his publisher said.
It will be the prince's second published book, the first being "The Old Man of Lochnagar," a children's book he wrote in 1970 as a gift to his younger brothers, his spokesman said.
"As a British citizen, I grew up aware of the Prince of Wales' commitment to green issues at a time when global awareness of these looming challenges was most certainly in its infancy," HarperCollins Senior Vice President Jonathan Burnham said in a statement.
"Harmony" will warn of the threat big business poses to the environment, HarperCollins said.
The publishing house said they expect the book will draw on the prince's commitment to organic farming, as well as his opposition to genetically modified crops and modern architecture.
E-mail to a friend