By Jill Cox-Cordova
CNN





(CNN) -- A rainbow brought Ntozake Shange some peace.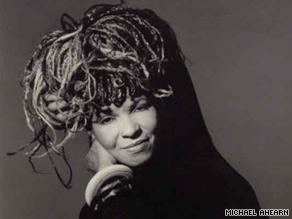 Ntozake Shange's "For Colored Girls" is a mainstay of the stage and school reading curricula.
"I was driving the No. 1 highway in Northern California and I was overcome by the appearance of two parallel rainbows," recalls the author of the famed play "For Colored Girls Who Have Considered Suicide When the Rainbow is Enuf." "I had a feeling of near death or near catastrophe. Then I drove through the rainbow and I went away. Then I put that together to form the title," she explained in a phone interview.
At the time, Shange -- who speaks carefully and delicately, but with a subtle wit -- was in her mid-20s. She had reportedly tried to commit suicide four times. The rainbow gave her inspiration to write "For Colored Girls," becoming the colors -- the voices -- of the unnamed female characters in the work.
The title also has other personal significance for Shange. Her grandmother gave her the inspiration for the words "For Colored Girls."
"She used to always tell me I was such a pretty little colored girl," Shange, now 60, recalled.
"For Colored Girls," which remains a mainstay of theatrical companies across the country -- as well as a popular book for high school students -- was a sensation upon its debut in 1975.

Watch Jasmine Guy and Nicole Ari Parker talk the play's significance »
The work -- a "choreopoem" is Shange's term for it -- consists of 20 poems, some based on Shange's own experience, plus occasional music, dance and song. The characters are associated with the rainbow and known as "lady in green," "lady in blue," "lady in yellow," and other colors of the spectrum.
In addition, a seventh color -- brown -- is added to yellow, purple, red, green, blue and orange. Each is also associated with a city across the country: "I'm outside Detroit," one says; "I'm outside Baltimore," says another.
In fact, "For Colored Girls" is amazingly flexible. Each actor can appear in different cities. Each story has no specific setting. Shange says this is to make the topics all-inclusive.
The topics of "For Colored Girls" are raw and honest. They include losing virginity, needing love, having an abortion, even pressing charges against a rapist who was not a stranger.
"My intent was to free the female body and to unearth unspeakable secrets as well as to have nostalgia about wonderful things," Shange said.
Critics loved the work's originality. It won an Obie Award for best off-Broadway play and also earned Tony, Grammy and Emmy nominations.
"Ntozake Shange writes with such exquisite care and beauty that anyone can relate to her message," The New York Times said in its review.
More than 30 years later, Shange said she hopes women draw positive emotions from the show and her other work, which includes seven novels, four children's books and several other plays and poems.
"I like women in general, women of color in particular, to feel pride and dignity and joy and fullness that we're capable of," she said.
There are no male characters in "For Colored Girls," but men take away something from it, too, Shange said.
"They live with us and they realize when they see my work sometimes, they realize they know so very little about us," she said. "That's been in the last few decades. I guess what I look forward to men drawing from my work is the strength, virility and the comedy of the women they are surrounded by."
"For Colored Girls" still has staying power. It's headed to Broadway and is under contract for a film next season. The production was filmed for a 1982 episode of "American Playhouse" on PBS; the version included several members of the original New York cast, including Shange.

She said the voices in "For Colored Girls" remain vivid, like the colors of the rainbow she saw so many years ago. Those voices still speak to us, she said.
"Women's voices for generations have not been heard acutely," she said. "[In] 'For Colored Girls,' there's an opportunity to see it repeatedly and hear new things."
E-mail to a friend