By Mike Steere
For CNN






LONDON, England (CNN) -- UPDATED: Rescuers have made verbal contact with French sailor Jean Le Cam after his yacht VM Materiaux capsized Tuesday west of Cape Horn, near Chile.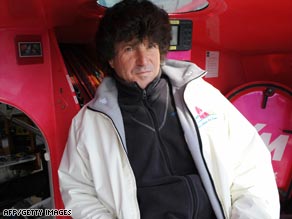 Jean Le Cam, pictured in his yacht VM Materiaux before the Vendee Globe start in November
Le Cam, who is competing in the Vendee Globe solo round-the-world race, activated his EPIRB (Emergency Position Indicating Radio Beacon) early Tuesday after contacting land-based support crew saying he feared the boat was about to capsize.
Chilean search and rescue aircraft, a nearby freighter and tug, and fellow Vendee Globe racers worked Tuesday morning to find Le Cam. His capsized vessel was found mid-morning GMT, but, by afternoon Le Cam had still not been heard from since he activated the second of his EPIRBs at around 0840 GMT.
The Vendee Globe official Web site is reporting that, at around 1430 GMT, fellow Vendee Globe competitor Vincent Riou, aboard PRB, arrived at Le Cam's yacht and heard a response from him after yelling his name.
It is understood Le Cam has been unable to get out of the yacht as the emergency escape hatch is underwater.
A Chilean naval tug equipped with a Rigid Inflatable Boat (RIB) and divers has been sent to help rescue the skipper and is expected to arrive Wednesday morning GMT.
It was not yet clear what condition Le Cam was in.
Don't Miss
Sea conditions in the area were described as "heavy" with swells of four to five meters and winds of 25-30 knots, gusting to 40 knots.
It is expected the rescue efforts may take longer than hoped due to the rough conditions.
Le Cam is aboard an IMOCA 60 foot vessel built largely of carbon fibre. The French national is married with two children and this is his second entry in the Vendee Globe.
The 2008/2009 race has so far been plagued by heavy seas and forced retirements. Only 13 of the original 30 sailors who set out on the voyage in November are still racing.
In December, French sailor Yann Elies had to be rescued by the Australian Navy after he was seriously injured in a freak wave south of Perth.
Michel Desjoyeaux, skippering Foncia, holds the lead.
E-mail to a friend