By Mike Steere
For CNN






LONDON, England (CNN) -- "Right now, there has never been a better time to buy a super-yacht."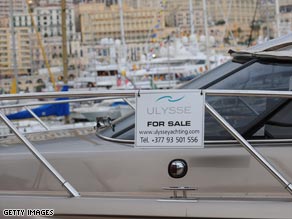 One of many large yachts for sale in Monaco.
That is according to Jamie Edmiston, London-based director of international yacht company, Edmiston.
Edmiston told CNN that as the global recession increasingly impacts the super-yacht market, prices are being driven down and opening the market to new, potential buyers.
"Everybody in the world is feeling the pain. This is a truly global recession.
"Whether it's cars, houses, boats or planes, the price of everything has dropped. People who are selling super-yachts have priced them more competitively," he said.
All of this means lower prices and greater access for first-time super-yacht buyers, Edmiston said.
He does not feel that the super-yacht market is threatened by the economic situation.
"Some people who were very, very rich are still very, very rich, but just a little bit less so," Edmiston said.
See behind-the-scenes at a recent super-yacht show
The 2008 Benetti yacht Alibella is a high-profile example of the effect the international economic climate.
The yacht, which boasts a helipad and gold-trimmed marble fixtures, is reportedly being offered for 24.5 million euros ($32.2 million) -- a discount of 9.5m euros ($12.5m) -- if a buyer can provide the cash within a month.
Edmiston said many of the cheapest buys would come from owners with more than one yacht who are looking to offload a second vessel quickly, and are happy to price it competitively.
"Keeping a second vessel can be expensive as you have to pay for another crew and all of the associated running costs," he said.
A Super-yachting Index compiled by The Luxury Institute with yacht broker and charter company Camper & Nicholson's International, found that new orders for yachts over 130 feet were up nearly 20 percent in 2008.
In 1997 there were just 241 yachts longer than 80 feet being built across the globe. By 2007 this number had soared to 916 vessels.
E-mail to a friend