(CNN) -- South African Giniel De Villiers was crowned Dakar Rally champion after winning the 14th and final special stage on Saturday.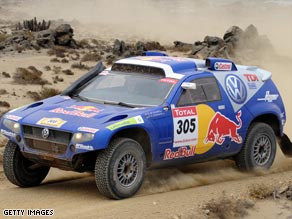 The Volkswagen of Giniel De Villiers won the 14th and final special stage to claim victory in the Dakar Rally.
Volkswagen driver De Villiers won the 791km Cordoba-Buenos Aires route, including 227km timed against the clock, which he completed in one hour 35 minutes 43 seconds -- finishing ahead of Russian Leonid Nowitskiy (BMW) and Krisztof Holowczyc (Nissan).
American Mark Miller, De VIlliers' team-mate, was runner-up after finishing sixth on Saturday, with Nowitskiy completing the podium.
De Villiers, whose stage victory was his second in a row and fourth overall, had an eight minute 59 second advantage over Miller.
"It's just incredible, I've never felt this way. I was so nervous in the last kilometers," De Villiers told PA Sport. "I kept looking at how many kilometers we still had to go. I am so thrilled for the whole team, for Volkswagen, who have supported us for five years before reaching this victory."
Runner-up Miller, also driving a Volkswagen, added: "Finishing second is great. It could have been Giniel or me. I am still young and I will have plenty more opportunities to win this race. The team won and that was our goal. It's really awesome."
Spanish biker Marc Coma (KTM) claimed his second Dakar win despite finishing sixth in the final stage. He finished 1:25.38 ahead of runner-up and former champion Cyril Despres, who came third on Saturday.
Coma, 32, who won the 2006 Dakar Rally, said: "There were so many days of racing, so much work. I am really very happy. It was a very tough race. We did not know the terrain too well and it was hard to have a good race strategy.
"I must thank all my team who did a wonderful job. There are a lot of people working behind the scenes and they deserve this victory as much as I do. Now I can enjoy the moment."
Portugal's Helder Rodrigues (KTM) won the final stage in 1:52.37 with second place going to Norway's Pal Anders Ullevalseter (KTM), 2.41 behind.
Josef Machacek (Yamaha) became the first-ever quad-only champion after finishing second in the stage, behind team-mate Jose Maria Pena who clocked 2:14.23.
E-mail to a friend