(CNN) -- Double world champion Lindsey Vonn cut her right thumb while opening a bottle of champagne in celebration of her downhill gold in Val d'Isere -- and ended up having surgery in Innbruck on Tuesday.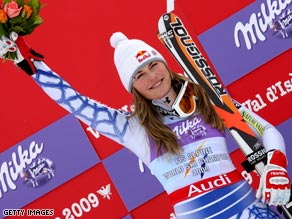 American Vonn celebrates after clinching her second gold in Val d'Isere.
The freak accident happened as the American star partied with friends during the award celebration at the French ski resort on Monday night.
The overall World Cup leader scored a brilliant win in the downhill to add to her super-G success at the start of the 12-day World Championships.
She was treated at the team hotel by U.S. team doctor Jeff Harrison, who had to insert stitches to close the wound.
Vonn later travelled to Innsbruck where a specialist decided she required minor surgery on a tendon injured during the champagne incident.
"I really think I'm safer skiing downhill at 85 miles per hour," Vonn was quoted on the official Web site of the championships.
"I'm in a little bit of pain, but this shouldn't slow me down."
Vonn is scheduled to compete in the giant slalom on Thursday and Saturday's closing slalom as she bids to add to her impressive medal tally.
Only a mistake on the slalom leg of the super-combi denied the all-conquering Vonn a clean sweep of the women's gold medals to date contested.
U.S. team medical director Richard Quincy, who accompanied the U.S. skier to Austria, told the Web site that Vonn will be kept under close observation for the next few days.
He originally said it was not anticipated Vonn would miss any competition, but now admits she is by no means certain to start Thursday's giant slalom.
E-mail to a friend