(CNN) -- American star Lindsey Vonn could miss the rest of the World Ski Championships after cutting the flexor tendon in her right thumb on a broken champagne bottle at Val d'isere.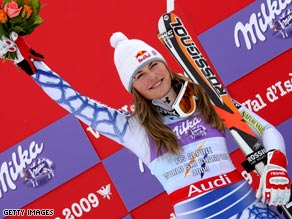 American Vonn will leave a decision on whether to race in Saturday's slalom until the last minute.
The 24-year-old overall World Cup leader definitely sits out Thursday's giant slalom after surgery following the freak accident as she celebrated her second gold medal in France.
Vonn still hopes to race in Saturday's slalom, but her Web site says the final verdict "depends on how the healing process continues and will not be decided until Saturday morning during the warm-up."
"I'm still quite sore," Vonn told Austrian V3 public radio. "We'll see if I'll be able to start the slalom.
"I have to take into consideration my whole season. For me it's also the overall World Cup standings that is at stake."
The freak accident happened as Vonn partied with friends during the award celebration where she picked up a bottle without realising it was broken and attempted to spray friends with champagne.
She was treated at the team hotel by U.S. team doctor Jeff Harrison who inserted four stitches to close the wound and the following morning Vonn flew to Austria by private jet for minor surgery.
A special splint was produced for her thumb and arm that will be integrated into the slalom pole in the event of her seeking a hat-trick of gold medals.
Only a mistake on the slalom leg of last week's super-combi denied Vonn a clean sweep of the women's medals so far.
Vonn is scheduled to give a media update on her chances of contesting the weekend race at a briefing on Thursday.
Wednesday's team event was cancelled following a severe snow storm.
E-mail to a friend