By Metsa Rahimi for CNN





(CNN) -- Iran is to send a female skier to the Winter Olympics for the first time at next year's Games in Vancouver, Canada, the head of the Islamic Republic's ski federation told state media Monday.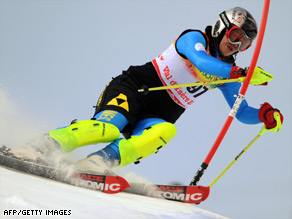 Fatemeh Kiadarbandsari, competing at last month's World Ski Championships, in France.
The chosen competitor will ski in "full Islamic dress," Iran's National News Agency reported.
Three women Fatemeh Kiadarbandsari, Mitra Kalhor and Marjan Kalhor are vying for the place on the national team alongside three male skiers, said Iranian Ski Federation head Isa Saveh-Shemshaki.
Trials for the team will be held in December, two months ahead of the event. Iran has sent male athletes to every Winter Games since 1956.
Skiing is hugely popular in Iran with some of the region's best slopes in the Zagros Mountains just a two-hour drive from the country's capital Tehran. At weekends during the seven-month ski season it is common to see long queues of traffic on routes to resorts.
With a growing ski tourism industry, the price of the sport has steadily increased. But with fewer social restrictions on the pistes than in other areas of Iranian life, the sport remains a popular pursuit for the country's youth.
Until recently, many slopes were strictly segregated with men and women skiing on different sides of the mountain. But while it is still illegal to travel in the same chair lift or gondola, the country's strict religious laws are visibly more lax at 3,000 meters.
Iran took just three women among 53 athletes to last year's Beijing Olympics but the choice of 19-year-old female rower Homa Hosseini to carry the flag during the opening ceremony infuriated strict Islamists.
Current president Mahmoud Ahmadinejad, who faces an election this year, was forced to back down from an initiative ealry in his current term to encourage female participation in sport because of criticism from the country's religious leaders.
One mullah reportedly said that women should not ski because the movement of their knees looked "more like dancing than sport."
E-mail to a friend