(CNN) -- Andy Murray maintained his recent dominance over Roger Federer with a 6-3 4-6 6-1 victory over the world number two in the semifinals of the Masters Series tournament at Indian Wells.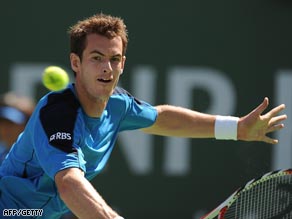 Murray plays a backhand volley during his three-set win over Federer.
The 21-year-old Scot will play top-ranked Rafael Nadal in Sunday's final in California following the Spaniard's 6-4 7-6 win over Andy Roddick.
Since losing to Federer in last year's U.S. Open final, Murray has won their last four meetings and holds a 6-2 career record against the Swiss star.
Murray, who has won titles in Doha and Rotterdam this year, made the early breakthrough on Federer's service in the fifth game.
He comfortably held serve to lead 5-3 and broke for the second time as Federer sliced a drop shot wide.
Murray double faulted to drop his service at the start of the second set and despite breaking back fell behind again in the seventh game.
Federer served out to level at one set all, but world number four Murray took a stranglehold on the decider as he broke to lead 3-1 with a series of incredible recovery shots.
Murray confirmed the break and then carved out three more breaks points, converting the second for a 5-1 lead.
Murray wrapped up the match and his first appearance in the final at Indian Wells on his fourth match point as Federer put a return long.
E-mail to a friend