(CNN) -- England and South Africa are battling to win the rights to host the world's richest cricket league, which is being shifted out of India because of security concerns.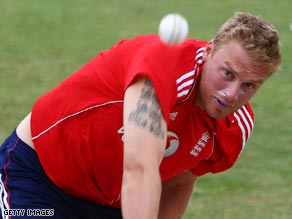 England star Andrew Flintoff is due to make his first appearance in the IPL next month.
Indian Premier League chairman Lalit Modi was on Monday reported to be flying to Johannesburg to speak to Cricket South Africa administrators about their prospects of staging the tournament.
But an English Cricket Board spokesman confirmed it remains chief executive David Collier's intention to speak to Modi in London on Wednesday before a decision is made.
"We will have to evaluate clearly and carefully before coming to a decision about the venue," Modi told CNN-IBN regarding whether South Africa or England is the IPL's preferred option for the six-week franchise team league which is set to take place between April 10 and May 24.
The Board of Control for Cricket (BCCI) in India announced Sunday that it was shifting the Indian Premier League (IPL) out of the country because the tournament would coincide with general elections.
BCCI president Shashank Manohar said the government had indicated it could not guarantee security for the 59-match competition.
The IPL had already increased spending on security 10-fold on last year's inaugural tournament, which featured the world's leading cricketers playing for eight franchises in the Twenty20 format, with fears heightened following the deadly attacks in Mumbai last November and this month's targeting of the Sri Lankan cricket side in neighboring Pakistan.
The England and Wales Cricket Board (ECB) and Cricket South Africa are now battling to win the rights to host the tournament.
ECB chief executive David Collier confirmed that it was interested.
"We have opened up discussions with the BCCI and the IPL within the last 36 hours and we'll be continuing those discussions in the middle of this week," Collier told the British Press Association.

Watch a report on the security concerns »
"Then we'll be reporting back to our board at the back end of the week. Clearly, with only three weeks to go to the start of the competition, I think all parties recognize an early decision has to be made."
Don't Miss
His South African counterpart, Gerald Majola, said it had also been approached.
"We do not know what the other options are and it is not for us to comment on that.
"At this stage we are looking forward to holding discussions with IPL officials to discuss the proposal in detail."
Majola said it was a "huge compliment" to Cricket South Africa's organizational skills, facilities and infrastructure that it been asked to consider hosting the tournament.
However, there are major hurdles to overcome on both sides. West Indies' tour of England would coincide with the IPL if it was held in Britain, with county cricket also under way.
England's counties will want assurances that they can profit from the tournament, their grounds will be used, and that it will not be to the detriment of the longer from of the game.
England also have the Ashes series and ICC World Twenty20 Cup to host later in the year.
The issue of TV screening rights will also dominate any discussions, with England's major broadcasting sponsor being Sky -- who do not own the rights to screen IPL in the country.

The IPL is one of sport's richest tournaments. The BCCI made $1.75 billion from 10-year TV rights, promotions and franchise deals even before a match was played in last year's opening competition. In India, the estimated television audience was 200 million people.
There are now nine players on contracts worth more than $1 million a year, with England stars Kevin Pietersen and Andrew Flintoff commanding the highest fee -- $1.55 million each.
E-mail to a friend