(CNN) -- Toyota, Williams and Brawn GP have all been cleared to race in this weekend's Australian Grand Prix in Melbourne after the FIA threw out a protest made by three of their Formula One rivals.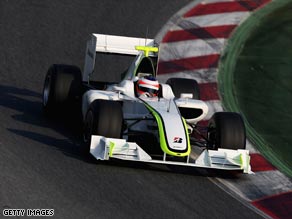 The Brawn GP team go into the opening Melbourne GP as favorites after impressive times during testing.
Ferrari, Renault and Red Bull claimed the other three teams had failed to adhere to the regulations regarding the design of their diffuser -- a key aerodynamic component which governs the airflow beneath a car.
However, after a six-hour hearing, the stewards presiding over Sunday's race rejected the complaint, clearing the trio to compete.
Within minutes of the decision, Ferrari, Renault and Red Bull confirmed notice of their intention to appeal, which will be aired after next weekend's Malaysian Grand Prix should it go ahead.
The fledgling Brawn GP team have stunned the F1 world with their times during testing, meaning drivers Jenson Button and Rubens Barrichello go into the opening race of the season as favorites.
"It is nice to get this business out of the way because it has been a fairly big distraction over the last 24 hours since we arrived in Melbourne," team chief Ross Brawn told PA Sport.
"The teams concerned confirmed they intended to protest the design, which they couldn't do until after scrutineering had finished. So it has been a little bit of an awkward period, but hopefully we can now focus on getting the best out of the car for the next few days."
It is unsurprising the Brawn diffuser has been given the all-clear considering the team owner is head of the technical working group for the Formula One Teams' Association.
Although Brawn had no qualms over the component's design, he was not 100 percent certain the stewards would side with his team, as well as Toyota and Williams.
He explained: "When we came here we felt our diffuser was within the regulations and the stewards have obviously agreed with our viewpoint.
"But I wasn't totally confident because, given the process used, you may find someone has a point of view that is completely valid, that we hadn't considered or thought of.
"If that was the case, and they had come up with an interpretation we hadn't considered, then we would have had to have recognized that and changed our design.
Brawn was unsurprised a protest was lodged, adding: "In fairness to the other teams, they had informed us of their concerns and we respect them.
"It is a highly competitive sport, especially with a completely new set of regulations, and there may well be arguments about various aspects of them. But I think they behaved fair and proper as they informed us of their intent and we respect their right to challenge what anybody is doing."
E-mail to a friend