(CNN) -- Former world number one Kim Clijsters will come out of retirement and return to playing on the WTA Tour, the Belgian confirmed at a press conference on Thursday.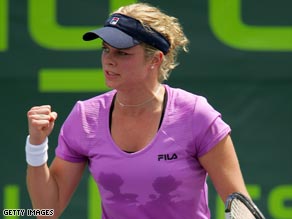 Kim Clijsters looks set to target the US Open as part of her comeback plans to be unveiled this week.
The 25-year-old will make her comeback in Cincinnati in August and is expected to be handed a wild card for that month's US Open.
Clijsters, who retired in May 2007 and became a mother last year, will play in an exhibition event at Wimbledon in May, as Tim Henman's doubles partner, but will not return to grand slam tennis until New York -- where she won in 2005.
Clijsters and Henman will play the husband-and-wife team of Andre Agassi and Steffi Graf at Wimbledon on May 17, when the new Centre Court roof will be tested.
As well as playing at Cincinnati, Clijsters also intends to enter Toronto before the US Open which begins on August 31 at Flushing Meadows.
Clijsters revealed it was the challenge of preparing for her Wimbledon date which convinced her to make a full-scale comeback.
"It all started with preparing for the gala match at Wimbledon, all pretty laid-back," she told reporters. "I liked it that much, I was onto my training schedule from my pro days -- the hunger for more comes automatically.
"I am looking at this as a second career, not as a comeback as I am now in a situation where not everything revolves around tennis 24 hours a day. We'll see how I, (daughter) Jada and the others in my environment respond to this."
Clijsters and her fellow-Belgian Justine Henin, who quit the game in 2008 at a time when she was on top of the world rankings, were serious rivals to the once-dominant Williams sisters.
Now Clijsters hopes to rediscover the form which ensured she had a regular presence in the semifinals and finals of grand slams.
She stated she hoped to be back on top "as quickly as possible", adding: "But it will depend on how well I can find the rhythm to my game."
E-mail to a friend