(CNN) -- The Olympic torch relay for the 2012 London Games will be confined to Britain, organizers confirmed on Friday.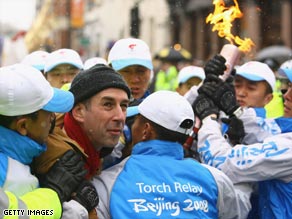 The London leg of last year's Olympic torch relay was marked by protests.
The past two summer Olympics have seen the torch taken on a world tour, but the experiment, started for the Athens Games in 2004, has now been scrapped.
It follows the widespread political protests which disrupted the passage of the torch ahead of last year's Games in Beijing.
The London leg last April was marked by chaotic scenes as police and security officials clashed with pro-Tibet sympathizers and similar scenes were repeated in several other countries.
International Olympic Committee (IOC) executive director Gilbert Felli said they had considered abandoning the global torch relay immediately after the Athens Games.
"After the relay in Athens, which was the first international relay, we came to the conclusion it was easier for the torch to stay inside the (host) country," he told Press Association.
Don't Miss
"Beijing had planned an international torch relay and we accepted it. We saw in the debrief that the risk was there and the IOC decided not to do it. I think when the torch relay is inside the host country there is more control."
A spokesperson for the London Olympics agreed with the decision. "We have always said the primary focus would be on a domestic torch relay whose main purpose is to excite and inspire the UK in the build-up to the Games," she said.
"We planned to take our lead from the IOC and are very happy with this decision as it mirrors what we were intending to do." The IOC has also confirmed that there will be no global relay for the 2010 Winter Olympics in Vancouver, Canada.
E-mail to a friend