(CNN) -- Britain's Jenson Button claimed pole position for Sunday's Australian Grand Prix in Melbourne -- leading a sweep of the front row for Formula One new boys Brawn GP.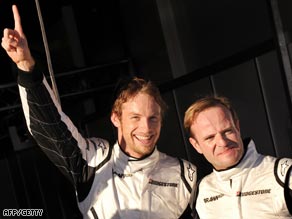 Button (left) and Barrichello celebrate their qualifying success at Albert Park.
Button edged out teammate Rubens Barrichello of Brazil by three hundredths of a second to claim the fourth pole of his stop start career.
"It's where we deserve to be," Button told the Press Association.
But Saturday's qualifying provided little cheer for reigning world champion Lewis Hamilton, who will have to start from 18th in the grid.
Hamilton struggled to the 15th best time but was relegated to the very rear of the grid because the gearbox in his McLaren had to be changed.
He later gained a partial reprieve as the Toyotas of Timo Glock and Jarno Trulli were penalized for a technical infringement with the rear wings of their cars.
After qualifying sixth and eighth best respectively, Glock and Trulli will now start behind Hamilton in the pit lane.
Like McLaren, Ferrari were also off the pace with Felipe Massa qualifying seventh best and Kimi Raikkonen in ninth, although both will move up a place after the punishment meted out to Toyota by race stewards.
It is the first time in 38 races that neither a Ferrari or McLaren is on the front row for a grand prix.
Sebastian Vettel will start from third on the grid on his debut for Red Bull, with Robert Kubica also performing superbly for BMW Sauber -- the Pole joining the promising young German on the second row.
Nico Rosberg, who topped the timesheets at the end of all three previous practice sessions, qualified fifth for Williams as the established order of F1 was turned on its head.
Button will be aiming for the second victory of his 154 grand prix career in a remarkable reversal of fortunes for the former Honda team whose future looked bleak when the Japanese car manufacturer pulled out of the sport late last year blaming the global economic downturn.
Don't Miss
But a management buyout led by technical guru Ross Brawn rescued the team and secured drives for Button and Barrichello.
After taking a new team to pole for the first time since Jackie Stewart performed the feat for Tyrrell in March 1970, Button gave his thrilled reaction. "It's been a long time since we've had a car that's been very competitive," he said. "But there are a few people who stand by you, and a few people who don't because they don't believe.
"Now we've a very good car, and although this is not the most important moment of the weekend, it's still a very good start."
The build-up to Saturday's first meaningful action of the season has been dominated by a row over an aerodynamic device used by the Brawn, Toyota and Williams teams.
The three teams will be racing under appeal after rival manufacturers, Ferrari, Red Bull and Renault, questioned the legality of their rear diffusers which are said to give them an unfair advantage. The FIA, motorsport's world governing body, will consider the appeal after next weekend's Malaysian Grand Prix.
E-mail to a friend