(CNN) -- Briton David Haye has finally secured a shot at the world heavyweight title after signing a contract to take on Ukrainian champion Wladimir Klitschko.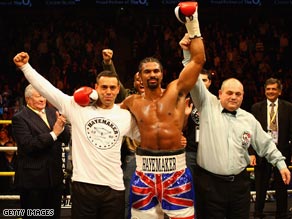 David Haye has finally secured a showdown with Wladimir Klitschko for his two world heavyweight title belts.
Following around four months of negotiations, a deal has at last been agreed for the former undisputed cruiserweight champion to take on IBF and WBO champion Klitschko.
A spokesman for Haye revealed the contract has been signed with just the location to be confirmed. "Everything is not 100 per cent nailed down yet with the venue," he told PA Sport.
"Apparently the Klitschkos have got four deals in place with different locations and are basically now working out which one makes the most financial sense. Everything else is agreed, it will be June 20 -- 100 per cent."
Londoner Haye began complex negotiations for a fight between Klitschko or his elder brother Vitali, the WBC champion, well before Christmas.
Wladimir had been the initial target until Vitali stepped into the fray and a deal in principle was agreed for him to take on Haye in London this summer.
That deal fell though, however, and attention returned to a match between Haye and Wladimir, 33. But talks were turbulent -- not helped by Haye showing up in Germany with a magazine mock-up of him holding Wladimir's severed head -- and at several points the fight appeared dead in the water.
The stumbling blocks appear to have been demands by the Klitschko brothers, who promote themselves, for rematch clauses and future options on Haye's career.
However, a compromise has been reached to keep alive Haye's burning ambition to emulate fellow-former cruiserweight king Evander Holyfield by moving up to become undisputed heavyweight champion.
Although the details of the clauses and options are not known, there is every chance Haye could fight both brothers within 12 months and, if victorious, unify the IBF, WBO and WBC titles.
"I've been chasing Wladimir around the negotiating table for the past three months and we've now finally got him where we want him," said Haye.
"I'll be chasing Wladimir in exactly the same manner on June 20. He's already shown me his hand through the way he's negotiated. He has never wanted this fight and was only going to agree to it when the odds were stacked in his favor.
"Wladimir wants to feel comfortable inside the ring and at the negotiating table. He was as reluctant to put pen to paper for this fight as he is when throwing a right hand."
E-mail to a friend