(CNN) -- German Sebastian Vettel won a rain-hit Chinese Grand Prix in Shanghai from Australian team-mate Mark Webber as Red Bull Racing claimed a one-two finish to record their first Formula One triumph.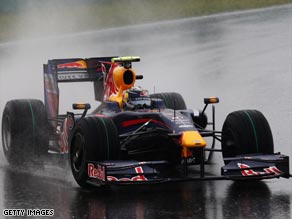 Sebastian Vettel mastered the testing conditions to give Red Bull their first grand prix victory in Shanghai.
Championship leader Jenson Button was denied a third successive victory as the Briton finished third with Brawn GP team-mate Rubens Barrichello of Brazil in fourth.
There was some reward for McLaren as they put their recent troubles behind them with fifth place for Finn Heikki Kovalainen and world champion Lewis Hamilton finishing in sixth.
Felipe Massa, who missed out on the title to Hamilton by just a point last year, failed to finish, meaning Ferrari are yet to pick up a single point this season -- their worst start since 1981.
Heavy rain had forced organisers to start the race behind the safety car, but when it peeled off after eight laps the Red Bull duo showed superb pace and control as they mastered the conditions.
"I am extremely happy," said top-rated 21-year-old Vettel who finished more than 10 seconds clear. "The car was fantastic, it is definitely necessary to mention the team did a really, really good job in preparing the car.
"It was an extremely good effort from the team to make the cars reliable and a double win for Red Bull is incredible.
"This championship will be very interesting. One small improvement to the car can make a big difference because everyone is so close."
Massa's race ended on lap 21 when the Brazilian's engine appeared to lose power, forcing him to the side of the circuit and ending his race.
Hamilton, however, was saw animproved performance from his modified McLaren as he moved through the field without ever threatening a podium place.
"I love racing in the wet and I would say that was one of my worst wet performances," the British star said. "I generally have good wet races but this was incredibly tough.
"I didn't have any downforce on this car and it was a real struggle, but I am glad I got some points for the team."
Force India's Adrian Sutil made an impressive challenge for a finish inside the points for the first time, but lost control on lap 53 when he aquaplaned into the barriers.
Sutil lost the front of his car in the proces, but he climbed out unaided and walked away no doubt pondering what might have been.
Vettel eased off in the closing laps and the 21-year-old cruised home to his second win in the wet following his triumph for Toro Rosso at Monza last year.
The 29-year-old Button leads the title race with 21 points ahead of Barrichello on 15 with Vettel third on 10.
"I knew that the Red Bulls had very good pace," Button said. "They were very strong from the word go.
"I am very thankful we were able to get to the end of the race with both cars but it is great to get on the podium again."
E-mail to a friend