(CNN) -- London's preparations for the 2012 Olympics were scrutinized by International Olympic Committee (IOC) inspectors on Tuesday when they began a three-day tour of the £9.3 billion project.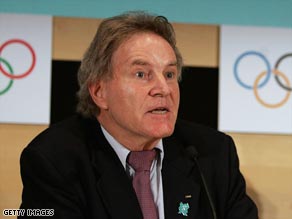 IOC's coordination commission chairman Oswald was 'very impressed' with London's Olympic progress.
Denis Oswald, chair of the IOC's coordination commission, said: "I must say that I have not been here since May last year. I'm very impressed by how much work has been done.
"I can also say that I'm impressed by the concept. We knew there would be temporary seating but now we are seeing how it will work.
"For me, it was very relaxing to see how much work will be done.
"We will have a stadium. We are sure of it. It was not necessarily the case with previous games."
The IOC team stood at the finish line of where the 2012 100-meter final will be staged to see progress on the stadium construction work.
The showpiece venue in Stratford, east London, will be shrunk from an 80,000-seater venue to one with a 25,000-capacity after the Games.
Lord Coe, the London 2012 organising committee chairman, responded: "It is comforting for me, too, that we will have a stadium."
E-mail to a friend