By Melissa Gray





(CNN) -- International Olympic Committee officials have declared they are "deeply impressed" by plans for London 2012 and are confident of having an "excellent Games" in three years' time.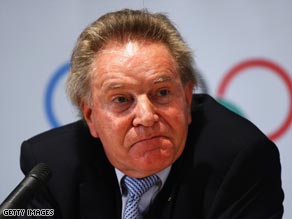 Denis Oswald, chairman of the IOC Coordination Commission, praised London's plans for the 2012 games.
The overwhelmingly positive assessment came at the end of a three-day visit by members of the IOC group in charge of monitoring and assisting London 2012 organizers.
"We had very productive meetings and we can confirm that London 2012 is on the right track," said Denis Oswald, chairman of the IOC Coordination Commission for the London Games, told a news conference.
It was only the fourth visit by the commission to London since the English capital won the Games in 2005.
Their progress report is key for London organizers to be able to promote a positive public image.
During their visit, IOC members visited the Olympic Park -- the planned centerpiece of the London Games that will contain the Olympic Stadium, Olympic Village, Aquatics Center, indoor cycling venue and the main press center.
All of these "big five" venues are now under construction.
"We were really deeply impressed by the progress made in the construction of different venues," Oswald added. "We know that everything is on time -- even some construction is ahead of schedule -- and this gives a very good feeling three years before the Games."
The London organizing committee, known by its acronym, LOCOG, is also well placed to weather the current financial crisis, Oswald confirmed.
"We know that the world is going through a difficult time, but LOCOG had a very strong commercial policy from the beginning and they have been able to secure a high amount of sponsorship before the crisis came," said Oswald. "The Games are in very good hands."
London scored 9.5 out of 10 on Oswald's last visit. He refused to give a rating this time but said if he did, it would probably be close. "I think it's not wise to try to give marks every time I come," he said, adding, "They are very close to 10."
E-mail to a friend