(CNN) -- The International Olympic Committee (IOC) have confirmed on their offical Web site that further analysis of samples taken from the Beijing Games have revealed that six athletes tested positive for blood-boosting hormone CERA.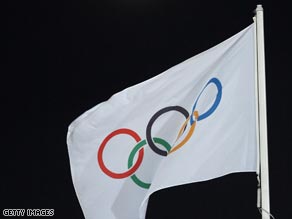 The IOC revealed that six athletes had tested positive for the blood-booster CERA.
The IOC have yet to reveal the names of the six athletes who have tested positive for CERA.
A total of 948 samples were analyzed, with seven tests, from six athletes, coming back as positive.
"The further analysis of the Beijing samples that we conducted should send a clear message that cheats can never assume that they have avoided detection," said Arne Ljungqvist, chairman of the IOC Medical Commission, in a statement.
"The vast majority of athletes do not seek an unfair advantage. We intend to do all we can to ensure that they have a fair environment for competition."
In accordance with their usual procedures, the IOC is now notifying the athletes through their own National Olympic Committees, although the Italian Olympic Committee confirmed one of their male athletes was among those who tested positive.
The governing body for the host nation of the next Games in 2012, the British Olympic Association (BOA), told CNN they had not received a telephone call from the IOC and "to the best of their knowledge no British athlete has returned an adverse analytical finding or a possible adverse analytical finding."
Officials from the Chinese Olympic Committee have confirmed to the state-run news agency Xinhua that all of the Chinese athletes in the games are currently "clean" and that so far there has been no notice from the IOC about athlete doping test results that are positive or abnormal.
The latest round of testing, which began in January, focused primarily on endurance events in cycling, rowing, swimming and athletics.
The testing took advantage of improved technology to seek evidence of the prohibited use of CERA, a new strain of EPO, and insulin.
As a general rule, all top five finishers in each event, plus a further two, were drug tested.
E-mail to a friend