(CNN) -- Northern Ireland's Gareth Maybin carded a course record 64 to lead the Italian Open by three strokes after Thursday's opening round in Turin.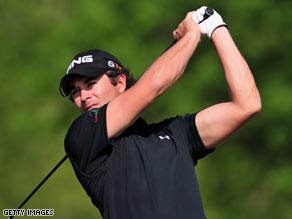 Maybin proved a class apart after breaking the course record to lead the Italian Open on Thursday.
The 28-year-old from Belfast proved a class apart as he topped the leaderboard ahead of Scotland's Richie Ramsay, France's Raphael Jacquelin and England's Marcus Higley -- while American John Daly would have been joint second as well but for two closing bogeys.
Maybin is looking for his first European Tour victory, after missing an eight-foot putt to take the South African Open five months ago before losing the play-off to Richard Sterne.
"I was very disappointed at the time -- any time you're beaten in a play-off you're not going to be too chuffed," Maybin told PA Sport. "But I went home for Christmas and reflected on it. I looked at the names below me and a lot of them were highly-ranked."
After Ramsay had set the clubhouse target with a 67 -- like Daly, he bogeyed the 17th and 18th -- Maybin was still two behind when he turned in 34.
But he then followed birdies on the 10th and 12th with a 116-yard wedge into the cup for an eagle two at the next and another birdie came on the short 15th.
Even when he bogeyed two holes later he came straight back, hitting a five-iron to six feet on the demanding 507-yard par four last.
Daly was annoyed at his finish, but after ending last week's Spanish Open with a 69 the 43-year-old, banned by the US Tour for six months in November after being thrown in jail to sober up, drew positives from starting his second event back with the same score. "I love the way I'm hitting the ball -- I had a lot of opportunities out there," he said.
E-mail to a friend