By Ben Wyatt For CNN





LONDON, England (CNN) -- Controversial British sprinter Dwain Chambers has set his sights on a world championships showdown against Usain Bolt in Berlin later this summer.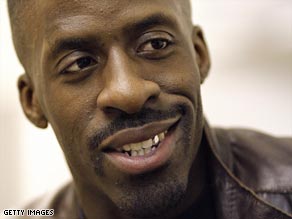 Chambers has been dogged by controversy since doping revelations.
Chambers tested positive for the anabolic steroid Tetrahydrogestrinone (THG) in 2003 as part of the BALCO scandal in the United States, but has re-launched his track and field career after serving a two-year ban.
By winning the European 60 meters indoor title earlier this year in the second fastest time in history, Chambers showed he is in prime form before heading for a warm weather training camp in California.
While in the sunshine state, Chambers told the Daily Telegraph about his lofty ambitions for the outdoor season.
"It's all about Project Bolt," he said.
"I'm sure it's the same project for everybody but I'm not afraid to shout it out. It's going to be very interesting. He's the man to beat."
Jamaican Bolt won three gold medals at the Beijing Games, setting world records over 100 and 200 meters, with Chambers banned from competing in China by the British Olympic authorities.
Before his doping disgrace, hopes were that Chambers had the potential to become one of the world's fastest sprinters and achieve Olympic glory like Bolt.
Announcing himself to the athletics scene with a 100 meter silver medal in his debut appearance at the 1998 European Championships in Budapest, Chambers went on to set a personal best of 9.97 seconds over the same distance at the 1999 Seville World Championships, picking up a bronze medal in the process.
The mark set by the 21-year-old remains the third fastest in European history and Chambers continued the success in Seville by helping Great Britain win silver in the men's 4 x 100 meters relay.
Though he narrowly missed out on a podium place at the Sydney Olympics in 2000, Chambers justified his number 2 world ranking and maintained his progress by winning gold at the 2002 European Championships in Munich.
Chambers also ran his fastest 100 meters time in this season, equaling Linford Christie's British record of 9.87 seconds.
With a seemingly glittering career ahead of him, Chambers' momentum was brought to an abrupt halt when, as part of the fall-out from the Bay Area Laboratory Cooperative (BALCO) affair, the sprinter, along with other high-profile clients of the San Francisco-based clinic, tested positive for drugs.
Don't Miss
Chambers was deemed to have benefited from Victor Conte's (the laboratory's founder) pioneering, if not illegal, supplement regime which enhanced athletic performance.
The rising star of the British track was found guilty in 2004 of taking drugs and given a two-year general suspension from racing by UK Athletics as well as a lifetime ban from all future Olympic events as a British athlete.
Chambers may have had the indignity of losing his titles, Conte pleaded guilty to conspiracy to supply steroids in 2005 and served four months in a Californian prison.
Though initially maintaining his innocence, Chambers subsequently revealed to the BBC he had knowingly taken illegal drugs for 18 months prior to the failed test, during which time he had won the European Championships.
He also revealed to UK Sport that, although he had tested positive for one drug, he was actually taking a cocktail of seven in total at the time of analysis; as confirmed by a letter sent to The Times from Victor Conte.
After returning from his ban Chambers competed in the 2006 European Championships in Gothenburg, where he helped to win relay gold again for Britain.
Then, in a bid to have a fresh start, Chambers looked to a career in American Football playing for the Hamburg Sea Devils in the NFL Europa League, before returning to the track in 2008.
In his comeback race Chambers claimed a silver medal at the World Indoor Championships in Valencia, setting a personal best time of 6.54 seconds in the 60 meters.
In the same season he also ran inside the qualifying time for the 2008 Beijing Olympics - running 10.00 seconds in the 100 meters, just three one-hundredths of a second off his personal best - but failed in his bid to revoke his lifetime Olympic ban through the British courts.
Chambers published his autobiography "Race Against Me: My Story," in 2009 where he disclosed further details regarding his drug-taking.
In excerpts of the book Chambers described his former-self as a "walking junkie" who took more than 300 different combinations of banned substances.
He also confirmed the reported 'hamstring tear' that ended his participation at the Commonwealth Games in Manchester in 2002 was in fact severe cramp brought on by his drug intake.
"By the time I had walked back to the dressing-room the cramps had almost gone; physically I was fine," he wrote.
Despite the setbacks, Chambers hopes the manner in which he has come clean about his misdemeanors will help to rebuild his career.

"They've asked for the truth, I'm giving them the truth. It's just unfortunate that people can't handle the truth.
"Those that won't allow me to move on, you know, it's difficult because they're trying to prevent me from earning a living and that's all I want to do now," Chambers told CNN.
E-mail to a friend