(CNN) -- Alex Cejka reached 11 under for a five-shot lead in the third round of the U.S. Players Championship on Saturday to end up in the final round with Tiger Woods.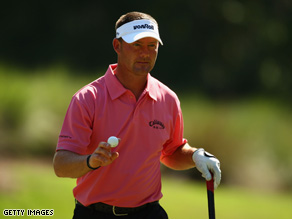 Alex Cejka of Germany celebrates holing a putt on the eighth green during the third round.
Woods, along with five other players, will have to whittle down Cejka's lead following his birdie on the challenging 18th.
Cejka's third round was wildly up and down. He made four bogeys and four birdies, but came out ahead, PGATOUR.com reported.
Cejka, who has played full time in the United States since 2003, needed a pre-round injection before the previous round to ease some pain in his neck.
"I had a pinched nerve and I had a numb arm for three weeks," he said. "So they had to go in there and put some cortisone shot in the nerve, so it's healing better.
"It's still not 100% but I can feel my hand, so that's a good sign."
E-mail to a friend