LONDON, England (CNN) -- Former England cricket star Chris Lewis has been jailed for 13 years after being convicted of smuggling $216,000 worth of cocaine into Britain.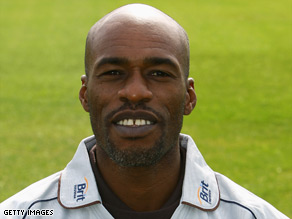 Chris Lewis was a distinguished all-rounder who scored a Test century for England.
The British Press Association reported on Wednesday that Lewis, 41, who played 32 Test matches and 53 one-day internationals for England in the 1990s, had hidden the drugs inside his cricket bag.
The cocaine was dissolved in five tins of fruit and vegetable juice.
His co-accused, Chad Kirnon, 27, was found with three tins of dissolved cocaine in his luggage and was also sentenced to 13 years in prison.
The court heard that the men, who claimed to be traveling alone, were picked up independently when they arrived at Gatwick shortly after 5 a.m. on December 8, last year.
Lewis, who told customs officials he had been visiting friends in St Lucia, was searched and the tins seized.
They were found to contain a brown liquid which turned out to be 100 percent pure cocaine, the court heard. Kirnon was stopped 10 minutes later and searched.
Prosecutor Tom Wilkins told the court that the cocaine would, at 100 per cent purity, weigh 3.37kg, PA reported. Both Lewis and Kirnon denied the charges during the eight-day trial.
E-mail to a friend