By Mike Steere
For CNN






LONDON, England (CNN) -- Former world tennis number one Andre Agassi is picking Rafael Nadal as a huge chance of completing a rare "Grand Slam" by claiming all four major singles tournaments this year.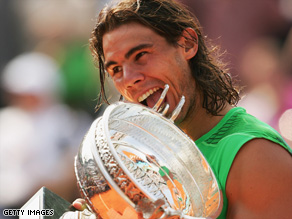 Rafael Nadal bites into the French Open trophy after winning the tournament last year, his fourth in a row.
Speaking ahead of the French Open which begins at Roland Garros in Paris this weekend, Agassi tipped Nadal as the best chance to become the third ever male player to complete the Grand Slam by winning the Australian Open, French Open, Wimbledon and U.S. Open all in the same year.
Nadal has already won the Australian Open this season and heads to Roland Garros looking for his fifth consecutive French Open title.
"It wouldn't shock me to see him (Nadal) pull off the unthinkable.
"I think this is the first time in a long time that we are going to have an opportunity to see somebody maybe pull that off," Agassi said.
The feat has been achieved by just two men -- American John "Don" Budge in 1938, and by Australian Rod Laver in both 1962 and 1969.
Agassi, who was in London with wife Steffi Graf for the opening of Wimbledon's new roof, told a media conference for the event that Nadal now has a strong enough style across all surfaces to achieve the feat.
"If Nadal returns his usual result at the French Open and then comes here (Wimbledon) with confidence and puts together a great two weeks, I think we could be looking at him in New York with a chance of pulling off the unthinkable. I didn't think I would ever see it."
A winner of eight Grand Slam singles tournaments, the 39-year-old said he had immense respect for the left-handed Spaniard.
"You have to respect him. Whether you're a fan -- he always gives time; whether you're a journalist -- he always makes time for media; or whether you're a peer, he never makes excuses when he loses."
Nadal, who has been ranked world number one since last August, heads into the French Open having won the event for the past four years. He will also be defending the Wimbledon title when that tournament begins in late June.
E-mail to a friend