(CNN) -- Jenson Button will start Sunday's Monaco Grand Prix from pole position while Lewis Hamilton -- the man he hopes to succeed as world champion -- suffered another humiliating blow.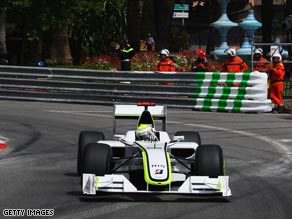 Championship leader Button can't do a thing wrong as he showed with pole for Sunday's Monaco Grand Prix.
Championship leader Button made it four poles in six races in 2009 in his Brawn GP with a dramatic final lap of one minute 14.902 seconds while fellow Briton Hamilton will start from 16th on the grid.
Button will have a resurgent Kimi Raikkonen alongside him on the front row in his Ferrari, with Brawn team-mate Rubens Barrichello directly behind him for the 78-lap race around the streets of the Principality.
As for Hamilton, his season suffered another setback when he slid into a tire wall on entry into the Mirabeau in Q1, damaging his left-rear wheel and leaving him to apologise for wasting his team's time.
Button, when asked as to what it meant to him to be on pole in Monaco, said: "They all mean a lot - I've got to stop saying that - but they do. Today was a really tight fight.
"It's been a fun weekend and qualifying was no different. It was manic -- it always is at Monaco -- but great to come away with pole. I was right on the edge on that (final) lap. I'm chuffed to bits."
Button said his performance was his best of the week at Monaco and admitted: "All the way through we have improved it and that's the great thing with this car.
"If I was driving last year's car and I started Thursday as we were, I would have massively struggled. But this car listens to changes -- and it's pole. That's very nice because mentally it is a tough circuit."
He added: "The way it has been going this season, it's been fantastic, and I hope it can continue."
After claiming Ferrari's first front-row start of the season, Raikkonen enthused: "The car has been getting better and better, and in qualifying it was very good.
"It's a good result for us, especially in this place. Hopefully we can fight for victory tomorrow."
Celebrating his birthday on Saturday, Barrichello said: "I thought I had the upper hand on Jenson. My lap was good, so his lap must have been magnificent. I really congratulate him on that.
"I'm sorry that on my birthday I didn't get pole, but hopefully I can make up for it tomorrow."
E-mail to a friend