(CNN) -- Jenson Button earned himself a place in the Formula One history books with a pole-to-flag victory over Brawn GP team-mate Rubens Barrichello in Sunday's Monaco Grand Prix -- the Briton's five victory in six races so far this season.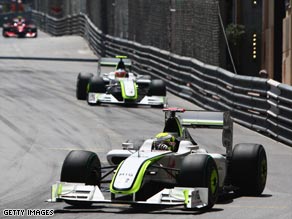 Button leads home Brawn team-mate Rubens Barichello as he claims his fifth Formula One victory of the season.
In achieving that feat, Button's joins a pantheon F1 greats Alberto Ascari (1952), Juan Manuel Fangio (1954), Jim Clark (1965), Sir Jackie Stewart (1969), Nigel Mansell (1992) and Michael Schumacher (1994, 2002 and 2004).
Button also spearheaded a third Brawn GP one-two of the season, stretching his convincing lead over Barrichello to 16 points, while putting the team over 40 points ahead of nearest rivals Red Bull in the constructor's championship.
Ferrari's Kimi Raikkonen finished third to get back on the podium for the first time since last year's Brazilian Grand Prix.
Starting from his fourth pole position of the season and the seventh of his career, 29-year-old Button pulled clear at the start and, apart from brief interruptions due to pit-stops, led all the way with a supreme display of driving.
Don't Miss
Button, who becomes the first driver since Michael Schumacher in 2006 to complete a hat-trick of consecutive Grand Prix wins, is now on 51 points in the standings, ahead of Brazilian veteran Barrichello with Red Bull's Sebastian Vettel, who crashed out on Sunday, another 12 points adrift in third position overall.
Ferrari had showed improved displays at Monaco and Felipe Massa followed Raikkonen home in fourth place.
Australian Mark Webber finished fifth for Red Bull after team-mate Vettel's disappointment, while Nico Rosberg finished sixth for Williams.
Two-time world champion Fernando Alonso and Frenchman Sebastien Bourdais completed the scoring in seventh and eighth places.
"This victory is massive for us, Button told the press conference after the race. "I got off the line clean, and it was all good from there other than the usual Monaco things such as traffic and the barriers getting nearer and nearer as the race dragged on.

"It's a strange feeling because you start backing off a little bit, and it started going through my mind that if I kept it together I'd win at Monaco.
"But that's dangerous, so I had to concentrate, keep a steady pace and end up enjoying a great day at Monaco. It's been an outstanding weekend. The team have been fabulous, and we're looking very strong over the next few races."
E-mail to a friend