(CNN) -- The Orlando Magic toppled the Cleveland Cavaliers on Saturday night to claim a spot in the NBA finals championship series for the first time in 14 years.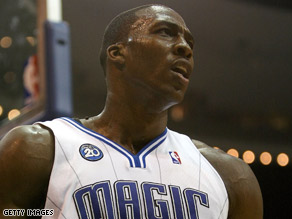 Orlando's Dwight Howard scored 40 points in Orlando's series-clinching victory.
The Magic's 103-90 home win in Game 6 of the Eastern Conference finals earned the team a trip to Los Angeles to face the Lakers.
Orlando made it to the title round in 1995, one year before Shaquille O'Neal left for Los Angeles.
"Tonight was a tough night, it was disappointing," coach Mike Brown of Cleveland told the league's Web site, nba.com, in a postgame interview.
"We had a heck of a season, but we had one goal in mind, and we came up short."
Orlando's win dashed hopes of a matchup between megastars Lebron James of Cleveland and the Lakers' Kobe Bryant.
Los Angeles beat the Denver Nuggets, 119-92, on Friday in the Western Conference championship to earn a spot in the finals.
Orlando's center Dwight Howard led with 40 points and 14 rebounds, sparing his team from another game with James, the reigning Most Valuable Player.
"He (Howard) protected the basket and defended ... he was fantastic," Orlando coach Stan Van Gundy told the league's Web site.
James scored 25 points and seven rebounds in one of his most lackluster performances of the season.
The NBA finals start at the Staples Center on Thursday night.
E-mail to a friend

All About Basketball • Sports • National Basketball Association