(CNN) -- Kobe Bryant inspired the Los Angeles Lakers to a dominant 100-75 home win over Orlando Magic in the first game of the 2009 NBA Finals.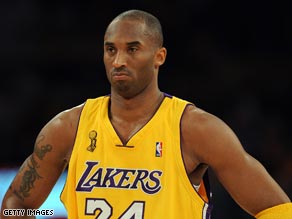 Bryant was in inspirational form for the Lakers in the first game of the NBA finals.
The All-Star guard contributed 40 points, nine rebounds and eight assists to power his side to victory in front of a sell out crowd at the Staples Center in his sixth appearance in the finals.
Firepower was also provided by Pau Gasol, who chipped in with 16 points, and Lamar Odom who scored 11 points and grabbed 14 rebounds for the Lakers as the Magic were left adrift.
The Eastern Conference champions, who went 2-0 against the Lakers in the regular season, seemed overawed on the night despite the return of point guard Jameer Nelson from a four-month shoulder injury layoff.
The 27-year-old sat on the bench for the first quarter but came on in the second to make a sweet bounce pass to Marcin Gortat for a dunk on Orlando's first possession in the period.
Nelson then set up Lewis for a three before making his first basket in four months on a short baseline jumper. However, the Magic's good play didn't deter the Lakers for long.
Bryant was particularly pleased with how his side defended against Magic's outside shooters. "We did a good job on them, but they'll be ready to go Game two,'' Bryant told the Lakers' Web site.
"We worked very hard on the perimeter, keeping those guys out of rhythm, then we did a good job on the inside -- giving them different looks. We wanted to come out and keep our energy up.
"We wanted to stay aggressive and it was my responsibility over the course of the game to keep it going,'' Bryant added.
"I was taking what they gave me. They want to back off and give me a shot, I am happy to take it," Bryant added. "We wanted to keep our energy up make sure we stayed the aggressor."
A positive for the Magic, who are in the finals for the first time since 1995, was Dwight Howard's 12 points and 15 rebounds.
A factor that gave Orlando coach Stan Van Gundy hope and optimism going into Game two. Gundy said: "I told the players to get their heads up. We are lot better than this. It is a long series."
Lakers coach Phil Jackson is gunning for a record 10 NBA championship title, one more than legendary Celtics coach Red Auerbach. Game two is Sunday night in Los Angeles.
E-mail to a friend