(CNN) -- World number one Dinara Safina's wait for her first grand slam title continues, after she was beaten in straight sets by compatriot Svetlana Kuznetsova in the final of the French Open at Roland Garros.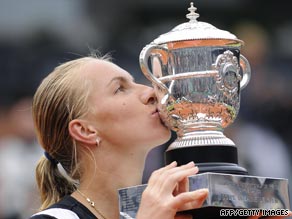 Kuznetsova kisses the French Open trophy after her comprehensive victory over Dinara Safina.
Safina, who has reached the top of the world rankings despite not having a major title to her name, looked completely out-of-sorts against her fellow-Russian, who secured a comfortable 6-4 6-2 victory in just over an hour.
The defeat was a crushing blow to Safina, who has long had to contend with the accusations that she is not a worthy world number one, and this third grand slam final defeat will do nothing to silence the doubters.
It was the second straight year she has lost in the final here, after going down in straight sets to Ana Ivanovic of Serbia last year.
It was also her second successive grand slam final defeat having lost to Serena Williams in the Australian Open in Melbourne earlier this year.
Seventh seed Kuznetsova, 23, was collecting her second grand slam title following her victory over another Russian, Elena Dementieva, in the final of the 2004 U.S Open.
The victory also atoned for Kuznetsova's 2006 final defeat to Justine Henin.
"It was so many years since I won a grand slam and I thought it would never happen again," Kuznetsova said in a court-side interview after her victory.
"Today when I was coming onto the court I knew everything was going to be fine. It was the same as when I won the U.S. Open," she added.
In cold, damp and overcast conditons, Safina started strongly, breaking her opponent to win the opening game. However, she quickly relinquished that advantage by dropping her first service game, that included a double fault and two unforced errors.
Don't Miss
Both players had trouble holding their serves in an edgy opening set and at 4-5 down, Safina dropped the set when hitting a forehand into the net.
Kuznetsova held serve to open the second set and games went with serve until the sixth game when a sixth double fault gave Kuznetsova the edge. She broke for the fourth time in the match shortly after when Safina blasted a forehand wide and long.
Kuznetsova held serve to make it 5-2 and then her pressure on the Safina serve paid dividends again with a seventh double fault on match point.
Despite the result, Kuznetsova said she believed Safina was a worthy world number one. "She's done so well, and she's number one so she's a better player than me at the moment," Kuznetsova said on Eurosport. "Today she was tired and had so much pressure on her but I want to wish her the best of luck for the future."
E-mail to a friend