(CNN) -- Jenson Button continued his domination of the current Formula One season by taking the Turkish GP in Istanbul, his sixth victory in seven races, to move a step closer to clinching his maiden world title.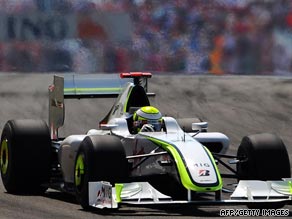 Jenson Button's sixth victory in seven races this season edges him closer to the Formula One world title.
A mistake from Brawn GP team-mate Rubens Barrichello and an error from pole-sitter Sebastian Vettel in his Red Bull allowed the Briton to cruise to the line for a comfortable success.
It was the 29-year-old's fourth consecutive success, the first time that has been achieved by a Briton since Nigel Mansell went on to take the title in 1992.
Button now has a 26-point cushion over Barrichello at the top of the standings after the Brazilian retired on lap 49, with Vettel 32 points adrift after he finished third behind team-mate Mark Webber.
Only five times in Formula One's 60-year history has any driver won six out of the first seven races; Alberto Ascari, Juan Manuel Fangio, Jim Clark and Michael Schumacher (twice).
Button's victory could not have been any easier after his two closest rivals, Barrichello and Vettel, both made mistakes at the start of the race.
Firstly Brazilian Barichello stalled from third place on the grid, relegating him down to 13th position by the end of the first lap.
Don't Miss
Meanwhile, pole-sitter Vettel, whose two previous victories had also come from the head of the grid, ran wide coming out of turn nine -- forcing him into running onto the grass approaching turn 10 -- an error that allowed Button to slip through into a lead he never relinquished.
Toyota's Jarno Trulli finished fourth, followed by Nico Rosberg in his Williams, matching his best performance of the season.
Ferrari's Felipe Massa, winner of this race from pole for the last three years, finished sixth, with BMW Sauber's Robert Kubica finally ending his points duck with seventh. The second Toyota of Timo Glock completed the top eight.
Meanwhile, world champion Lewis Hamilton finished a lowly 13th in his under-performing McLaren, a distant 80.4 seconds adrift of Button.
As for the constructors' championship, Brawn's first failure of the season means Red Bull have closed the gap by four points to 39.5.
Button told the post-race press conference: "It's the best the car has felt all year. It's previously been a bit loose and not really suited my style, but today it was incredible, and that's thanks to everyone in the team.
Looking ahead to the next race at Silverstone in a fortnight, Button said: "The British Grand Prix is always great. To lead the championship by 26 points is quite a nice feeling, so we'll see what happens."
A happy Webber, second for the second time this year, said: "It was a good afternoon for me. I had to hang in there at the start.
"I knew top spot was taken, so it was just a question of the other podium places. The second stint was crucial for me. I did enough in that to get the jump on Sebastian and finish second."
Vettel owned up to his mistake at the start but, despite that, felt he would not have been able to have held off Button in any case.
"The start worked out OK, but then I lost the car at turns nine and 10, I think due to a bit of a tail wind," reflected Vettel. "But it wouldn't have made a difference because Jenson was just too good today, so I think we can be satisfied with second and third."
E-mail to a friend