By Mike Steere
For CNN






LONDON, England (CNN) -- World number two Roger Federer entered an elite pantheon of players by beating Sweden's Robin Soderling in the final at Roland Garros Sunday.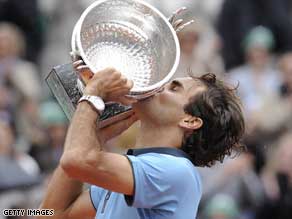 Roger Federer kisses the 2009 French Open trophy
The clay-court grand slam -- the only one to have eluded Federer despite three previous final appearances -- was his 14th major capture, a total that equals the record set by Pete Sampras.
The win also confirmed him as only the sixth man in histroy to complete a "career grand slam" by winning on all four surfaces(Wimbledon, the Australian Open, the U.S. Open, and the French Open).
Former greats like Sampras, and the last player to win all four grand slams, Andre Agassi have lavished praise on the 27-year-old Swiss - but are they right in their assessement that he is the best ever?
Debate: Is Roger Federer the greatest tennis player of all time?
Australian legend Rod Laver has been rated the top player in history by many pundits, winning 11 major titles despite having five years away from the four grand slams as the game diverged between amateur and professional. Do you agree?

Federer has won 14 titles but he is only following in the footsteps of Pete Sampras who dominated the sport for a decade during his time at the top. And though the Swiss is undoubtedly successful, is his personality as inspiring as John McEnroe's?

View our photo gallery » of how the final happened, and tell us if you think Federer is now the greatest player in tennis history in the Sound Off box below.
E-mail to a friend