(CNN) -- The Los Angeles Lakers took a 2-0 lead over Orlando Magic in the National Basketball Association (NBA) best-of-seven finals, after securing a narrow 101-96 overtime victory on Sunday.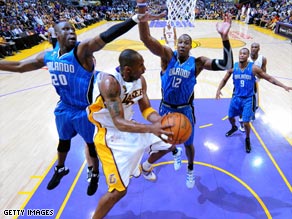 Kobe Bryant leads the attack for the Lakers against the Orlando Magic.
Once again Kobe Bryant played a key role in the victory at the Staples Center, weighing in with 29 points and eight assists, ably assisted by Pau Gasol's 24 points.
The Lakers trounced the Magic in the first game 100-75 but had to work far harder for the win the second time around, with only 30 points scored between both sides in the first quarter.
The game continued in a defensive vein despite Dwight Howard's 17 points and 16 rebounds for Orlando, leaving the scores tied 88-88 in regulation, before Orlando's Courtney Lee blew a chance to win the game by missing a crucial lay up with only ten seconds remaining.
Remarkably the guard had another chance to seal the game when he wriggled free to catch caught Hedo Turkoglu's long lob pass.
Don't Miss
But Lee's shot ricocheted off the backboard and front of the rim to bounce harmlessly away, leaving Lee to put his hands behind his head in disbelief.
It was a gaffe that Magic coach Stan Van Gundy rued after the game: "We missed it. I don't know what else to say. We executed well, Hedo (Turkoglu) made a great pass. I'm not trying to be a pain ... Hedo made a great pass and (Lee) just missed it.
"We got to make more of our three-point shots than we did. It is amazing to me this was an overtime game. I can't quite figure out how it was," Van Gunday told the Lakers' Web site.
Lakers coach Phil Jackson was understandably more upbeat about his side's performance: "There is a sense of relief because they played very well.
"We stayed in the ball game because they turned the ball over and we had opportunities because of it," said Jackson regarding the Magic's 20 turnovers in the match.
Game 3 is Tuesday night at Orlando's Amway Arena, which will be hosting a finals game for the first time since June 9, 1995 and it is a tie Jackson is looking forward to.
"It is going to be a big event in their town. We know there's going to be a lot of energy surrounding their team. We are going to have to use all our centers and foul situations. I think they will be much better," he told the club's official Web site.
E-mail to a friend