(CNN) -- French Open champion Roger Federer dramatically withdrew from the Halle Open tournament on Tuesday saying he was "overwhelmed and exhausted" after his Paris triumph.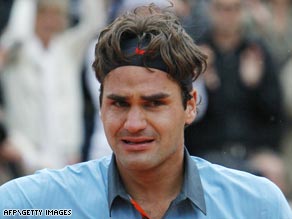 Roger Federer quits the Halle Open saying he is "overwhelmed and exhausted" after his Paris triumph.
Federer beat Swede Robin Soderling in Sunday's Roland Garros final to complete his Grand Slam haul and equal the record 14 'major' wins by Pete Sampras.
He traditionally uses the German follow-up event as his warm-up for Wimbledon which starts on June 22.
"I sincerely apologise to the tournament organisers, my competitors, and my fans in Germany," Swiss world number two Federer said in a statement on his Web site.
"I only hope they will understand that I still feel emotionally overwhelmed and exhausted by the incredible events of the past few days.
"It is hard for me to admit, but I simply cannot imagine giving my best effort in another tournament right away and I don't want to risk injury if I am not 100 percent prepared.
"I need to rest and recuperate, but I look forward to returning to Halle in 2010 to go for my sixth title."
Serb Novak Djokovic, who scored a straight sets win over Italy's Simone Bolelli 7-5 6-2 in 84 minutes earlier in the day, has now been promoted to top seed.
"For my first game here, I was pretty happy," said Djokovic, who faces France's Florent Serra in the second round.
Djokovic is using the grass-court tournament to prepare for the next Grand Slam tournament -- and he hopes injury worry Rafael Nadal will be at Wimbledon to defend his crown.
Nadal withdrew from the Queen's tournament this week with a knee injury and the Spaniard says he will travel to London next week before making a final decision.
"I hope he makes it, it would be a shame for the tournament if the defending champion and world number one doesn't play through injury," said Djokovic.
Earlier, third-seeded Fernando Verdasco suffered a first round exit when he was beaten by Germany's Philipp Petzschner 3-6 7-6 6-4.
Former world number one Lleyton Hewitt tipped Federer to set a new Grand Slam record at Wimbledon after easing into the second round at Queen's.
Australian Hewitt took just 44 minutes to sink Argentine Eduardo Schwank 6-1 6-0 and then turned his thoughts to Federer whose triumph in Paris saw him draw level with Pete Sampras on 14 Grand Slam wins.
Don't Miss
"It was an amazing achievement," said Hewitt. "His record speaks for itself. From what I saw of the match, he played his best tennis in the final.
"There was a lot of pressure and expectation on him. He came out and played one of his best matches. I think coming to Wimbledon is probably his favorite tournament of the year, so he's going to be feeling pretty confident."
He added: "Roger's going to be the one to beat. But Andy Murray has got a good chance, no doubt about that, both here and Wimbledon. He's number three in the world at the moment and plays extremely well on this surface."

Britain's Murray, who is the top seed in the singles, and Hewitt won their opening doubles 3-6 6-3 12-10 on a match tie-break after dropping the first set to U.S. duo Rajeev Ram and Andy Roddick.
Second-seeded Roddick began his challenge for a record fifth Queen's title with a comfortable 6-1 6-4 second round victory over Kristof Vliegen.
E-mail to a friend