(CNN) -- Ferrari, Red Bull and Toro Rosso have all restated their intentions to boycott the 2010 Formula One world championship because of a disagreement about the future of the sport, despite being included by the sport's world governing body on a list of official participants for the next season.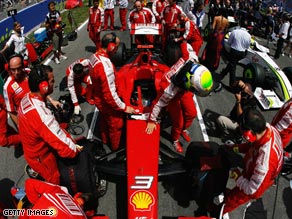 Ferrari's participation in the 2010 Formula One season remains in the balance despite the FIA's announcement.
The Federation Internationale de l'Automobile (FIA) announced on their official Web site on Friday that 13 applications had been accepted for next season's competition.
Five of those entrants, Brawn GP, McLaren Mercedes, BMW Sauber, Renault and Toyota, were revealed as submitting conditional applications but Ferrari, Red Bull and Toro Rosso were down as being "unconditional" entrants.
All eight teams are members of the Formula One Teams Association (FOTA) -- who later confirmed in a statement that none of the octet will race in the 2010 championship until their continued dispute with the FIA over proposed budget caps for next season is resolved.
Maranello-based Ferrari stated on their Web site their entry was "subject to certain conditions" that had so far not been met.
The statement continued: "Despite Ferrari's previous written notice to the FIA not to do so, the FIA has included Ferrari as a unconditional participant in next year's Formula One World Championship.
"For the avoidance of any doubt, Ferrari reaffirms that it shall not take part in the 2010 FIA Formula One World Championship under the regulations adopted by the FIA in violation of Ferrari's rights under a written agreement with the FIA."
Don't Miss
The publication of the entry list follows a meeting between the president of the FIA, Max Moseley, and the eight FOTA teams, on June 11 to try and agree the entrants for the coming campaign.
From this gathering it was agreed to grant those teams with unconditional entries a deadline extension of June 19 to reconcile their differences with the FIA's plans to impose a budget cap of $60M for competing teams.
Current championship leaders Brawn GP, one of the eight who submitted a conditional offer, stated on their Web site the FIA had accepted their entry but had "invited them to lift those conditions following further discussions."
The statement added: "It is inconceivable that an agreement won't be reached during the year, so Brawn GP look certain to make the grid in 2010."
The current wrangles stem from controversial plans by the FIA to impose budget caps and technical limitations on teams in 2010 in a bid to make the grid more balanced and easier for the smaller teams to compete successfully.
Meanwhile, Williams and Force India have entered the 2010 championship after giving their backing to the proposed budget cuts -- a stance that resulted in their expulsion from FOTA.
There are also three new teams due to compete in the 2010 season.
Spanish-based Campos GP have competed in various championships from GP2 to Euro F3, winning six drivers' championships and five team titles, including the current GP2 Series.
British team Manor F1 have won 171 races and 19 championship titles in series' such as Formula Renault and Formula 3 Euroseries.
Meanwhile, Team US F1 is a new racing operation, but its directors have many years of motor sport experience and have already attracted a host of investors.
Entrants for the 2010 Formula One season:
Ferrari *
Red Bull Racing *
Williams
Toyota*
Force India
McLaren *
Brawn GP*
Renault*
BMW Sauber*
Toro Rosso *
Campos GP
Manor F1
Team US F1
* Teams who have submitted conditional offers. The final three teams listed are new entrants.
E-mail to a friend