(CNN) -- The LA Lakers are on the brink of winning the 2009 NBA finals after two late three-pointers from Derek Fisher helped seal a 99-91 victory over the Magic in Game Four in Orlando, moving them 3-1 ahead in the best-of-seven series.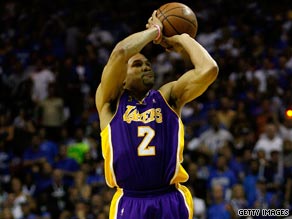 Derek Fisher's two late three-pointer helped give the Lakers a 3-1 advantage in the NBA finals.
Point guard Fisher had failed in all his three-point attempts prior to sinking one at the end of the fourth quarter to tie the match at 87-87 -- and added another in overtime to seal victory for the Lakers -- to finish with 12 points in 42 minutes of playing time.
"My team-mates and my coaches kept giving me that confidence to continue to believe in myself," Fisher told the official Lakers Web site. "I wanted to come through for those guys."
Don't Miss
Fisher's three-point ability is legendary. In his first stint with the Lakers, he hit a three-pointer on the buzzer to give them a 74-73 victory over San Antonio in the 2004 quarterfinals, a series they went on to win.
Kobe Bryant finished with 32 points, eight assists and seven rebounds for the Lakers -- while Trevor Ariza and Pau Gasol each scored 16 points as the Lakers fought back from a 12-point half-time deficit.
The Lakers can close out the series and collect their first NBA title since 2002, and the 15th in their history, with another victory over the Magic at the Amway Arena on Sunday.
E-mail to a friend