By Mike Steere
For CNN






LONDON, England (CNN) -- They've dodged pirates and spent Christmas at sea, and now, almost nine months after they set out, the boats in the Volvo Ocean Race round-the-world contest are finally drawing close to the finish.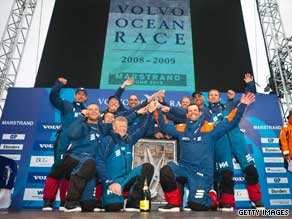 The crew of Ericsson 4 celebrate after winning the eighth leg of the Volvo Ocean Race
The ninth leg (of ten) is underway -- a 525 nautical-mile "sprint" between the Swedish island of Marstrand and the country's capital Stockholm.
Heading into the final stages, the Torben Grael-skippered Ericsson 4 has all but won the overall title.
Following three consecutive leg wins they have accumulated 102 points -- enough to be 15 points clear of their nearest rivals -- Puma Racing.
However, after winning the eighth leg last week, Grael admitted there is still work to be done.
"We wanted to have a good result. This is a nice step towards the main goal. I have to thank this wonderful group because it was a tough leg, a difficult race and even though it was hard, people were in a good mood on board.
"We're very close to winning the race. But we're not there yet," the Swedish skipper told the Volvo Ocean Race Web site.
Test yourself: Would you survive a round-the-world voyage?
Second-placed Puma also has a threat from close behind, with Telefonica Blue just one point back on 86 points.
Ericsson 3 and Irish-Chinese entry Green Dragon are the next best-placed teams in the fleet of eight yachts. Last place looks set to go to Team Russia, which has only 10.5 points and would need at least 25 points to overhaul the seventh-placed Delta-Lloyd.
By the time the race finishes is Russia later this month the boats will have covered more than 37,000 nautical miles over the ten legs and seven in-port races of the competition.
E-mail to a friend