The Los Angeles Lakers secured their 15th National Basketball Association (NBA) title at the Amway Arena on Sunday after a 99-86 win over Orlando Magic in Game Five gave a 4-1 victory in the best-of-seven finals.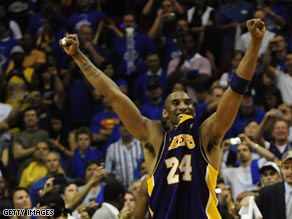 Kob Bryant celebrates his fourth career title.
Leading light, Kobe Bryant, capped a fantastic finals weighing in with 30 points, five assists and six rebounds to pick up the personal accolade of Most Valuable Player (MVP) for the first time in his career en route to the win.
Teammate Trevor Ariza netted 15 points while Pau Gasol added 14 in a dominant performance by the west-coast side. The victory was also the tenth career title for head coach Phil Jackson, a feat that sets a new NBA record as the 63-year-old surpasses the previous mark set by former Celtics coach Jacob "Red" Auerbach.
Jackson was delighted to have set a new milestone as an NBA coach but was typically philosophical when speaking to the club's Web site: "To have won ten is a remarkable achievement, however, I've always said that it's the journey that's really important."
Bryant spoke of his relief in a post-match press conference, that by winning his fourth title he had put to rest the notion that he could not win another title without former teammate Shaquille O'Neal.
"I don't have to hear that criticism anymore, that's the biggest thing for me," he said.
The Lakers fell at the final hurdle last year when they were beaten 4-2 by the Boston Celtics in the finals, a loss which had an impact on all the players and provided inspiration for 2009's victorious run according to the 30-year-old shooting guard.
"After last year we had the attitude that we wanted to become a better defense team, a better rebound team and we've done that. It feels like I'm dreaming right now. From the standpoint of responding to a challenge, it feels good to have proved people wrong."
Magic's 23-year-old center Dwight Howard said that despite the loss his side had much to be proud about: "As a team it think we started out great (this season) - we did a lot of things that nobody believed we could do at the start of the season.
"They (the Lakers) played like they wanted the win, with Kobe leading the way. Our goal was in reach and we were only three games away from being the NBA title holders. It hurts a lot but you can learn a lot from losing."
E-mail to a friend