(CNN) -- Defending champion and world number one Rafael Nadal has been forced to withdraw from next week's Wimbledon Championships because of his on-going knee injuries.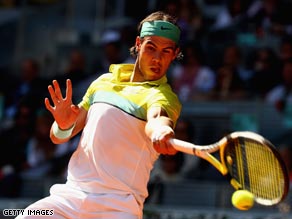 Rafael Nadal will be unable to defend his Wimbledon title after succumbing to his knee injury.
The Spaniard, who was the top seed to defend his crown at the grass-court grand slam event, announced his decision at a press conference in London on Friday evening after succumbing to the tendonitis problems that have troubled him in recent weeks.
Nadal looked far from his best when losing in straight sets to Australian Lleyton Hewitt, the 2002 Wimbledon champion, in an exhibition match at Hurlingham on Thursday.
The Spaniard was beaten again by Swiss Stanislas Wawrinka in another exhibition match on Friday -- and the news ultimately came as no real surprise.
An emotional Nadal labelled his decision as "one of the worst moments of his career".
"I am not 100 per cent," Nadal told reporters. "I don't feel I am ready to approach a tournament as important as Wimbledon. I have decided that I just cannot play this tournament this year.
"I tried everything, I worked very hard in the last weeks to arrive here in the best condition. Friday was the last test and although I didn't feel terrible I was not close to my best.
"When I enter a tournament like Wimbledon I want to try to win but my feeling right now is that I am not ready to win. Not playing Wimbledon was one of the toughest decisions of my career. But the situation makes the decision a little bit easier.
Don't Miss
"It is tough but at the same time, I have no option. I don't feel ready to compete at 100 per cent for two weeks. I have played with some problems on the knees for the last few months. Now I am going to be out for some time but I don't know how long.
"I arrived at one of the most important moments in the year in my worst condition. I had physical problems in two of the most important tournaments for me -- Roland Garros and Wimbledon -- so it is tough to accept for me.
"I am going to work very hard to come back as soon as possible and when I do, I want to come back 100 per cent right both mentality and physically."
Nadal, who won the opening grand slam of the season in Australia but surprisingly lost to Sweden's Robin Soderling at the French Open, was forced to pull out of last week's traditional Wimbledon warm-up at Queen's Club -- an indication he was struggling to return to fitness.
The news means that Nadal is only the fourth player in the professional era to be unable to defend the men's singles title after John Newcombe and Stan Smith in the 1970s, and Goran Ivanisevic in 2002.
Earlier in the day, it was announced that Nadal would have been paired against Arnaud Clement in Monday's Wimbledon first round, but the Frenchman will now play a lucky loser from the qualifying round.
Nadal's injury also boosts British hope Andy Murray's chances of Wimbledon success. Murray won his first grass-court event at Queen's Club and the third seed is now the highest-ranked player in his half of the men's singles draw.
The other half of the draw looks tougher with five-time champion Roger Federer due to face fourth seed Novak Djokovic in the semifinals, as he bids for a record 15th grand slam title. The Swiss maestro will open against Yen-Hsun Lu.
Meanwhile, in the women's draw, the Williams sisters could face each other in a repeat of last year's final.
Defending champion Venus is seeded to face top-ranked Dinara Safina of Russia in the semifinals, while world number two Serena is in the same half of the draw as fourth-ranked Elena Dementieva of Russia.
E-mail to a friend