(CNN) -- Max Mosley, the president of motorsport's world governing body the Federation Internationale de l'Automobile (FIA), has said there "will be a unified Formula One championship in 2010."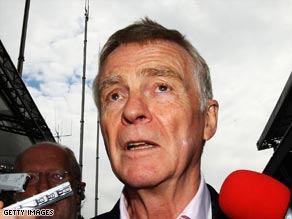 The FIA president Max Mosley says a deal has been reached with the breakaway F1 teams.
The statement comes after Mosley spoke to the FIA's World Motor Sport Council and the Formula One Teams' Association (FOTA), at the governing body's headquarters in Paris.
It seems FOTA, as the representitive of all eight teams that had threatened to set up a rival series, have settled their differences with the controversial racing boss.
Mosley has confirmed a new cost-cutting agreement has been reached with those concerned which has ensured next season's Championship will include the eight breakaway teams - Ferrari, McLaren, BMW Sauber, Renault, Toyota, Red Bull, Toro Rosso and Brawn GP. The Formula One furor explained.
Don't Miss
"There will be one F1 championship but the objective is to get back to the spending levels of the early 90s within two years," Mosley told a press conference.
It also appears the 69-year-old has now agreed to move aside when his fourth term as FIA president ends in October, saying: "I will not be up for re-election, now we have peace."
Mosley had previously maintained the decision of who should be president should reside solely with the members of the FIA despite growing pressure from the rebel teams for a new man to take charge.
Formula One supremo and sole commerical rights holder Bernie Ecclestone said he was "very happy common sense had prevailed" according to The Times.
The FIA announced on the June 19 they intended to sue the eight teams who had threatened to form a new, alternative championship for breach of contract.
Today's announcement could bring to an end an eight-week disagreement, that has threatened to tear apart the sport, which centered on proposals to introduce a $60 million budget cap for all teams competing in the next campaign.

Though the FIA hoped such plans will make the grid more balanced and easier for the smaller teams to compete successfully, FOTA had complained the wishes of the majority of teams to introduce the plans over a greater length of time had been "ignored."
"Furthermore, tens of millions of dollars have been withheld from many teams by the commercial rights holder, going back as far as 2006," FOTA added in a statement on its official Web site.
E-mail to a friend