By Anouk Lorie
For CNN





LONDON, England (CNN) -- After eight months and more than 37,000 nautical miles over ten legs, the Ericsson 4 team has won the round-the-world Volvo Ocean Race.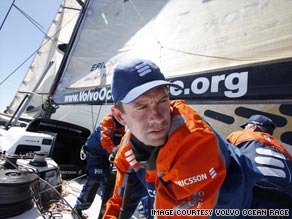 Captain Brad Jackson speak to CNN about the challenges of life on "Ericsson 4."
The team's new title comes as no surprise: It had been clear for a while that "Ericsson 4" were unbeatable, having accumulated enough points to win long before crossing the finish line in St Petersburg, Russia, on June 20.
CNN's Mainsail spoke with Stu Bannatyne and Brad Jackson -- watch captains on the race winning "Ericsson 4" -- about preparation for the race, motivation and the challenges of having ten men on a 70ft boat...
CNN: What has been the most challenging aspect of the last eight months?
Stu Bannatyne: Perhaps the most challenging aspect has been the intense competition of these boats. All the teams are very good and we have found ourselves fighting for every mile and half a mile in a very competitive fleet.
CNN: You have dominated the race, what do you put your extraordinary success down to? What extra skills helped you during your time at sea?
Our success in this race has been entirely due to preparation as well as the commitment from Ericsson in deciding to do this race very early on. By starting early we have been able to make the best choice in designers, builders, sailing team, shore team, and across the whole team structure.

See more pictures of the ups and downs of the Volvo Ocean Race »
Having put together the team early it was then easier for us to make good decisions from the start and spend the money the best way possible.
As for skills, if commitment is one, then that is a pretty important skill. As a team we have a clear goal -- to deliver a race winning boat and the commitment to win.
CNN: How did you motivate yourselves during the long periods at sea? With 10 men in a confined space for a long time, did you ever feel claustrophobic?
MainSail special
Discover incredible super-yachts and get your sailing fix!


SB: On the boat you can for sure get claustrophobic at times -- 40 days at sea with 10 other guys on a 70ft boat in confined conditions. And for sure, there are low periods in the race when conditions are tough.
But we have a mutual respect for each other, and when things are tough we back each other up. We all have a common goal, which is to get there as quick as we can and we all work together with that.
CNN: What is your diet on the boat like? How much sleep did you generally get?
Brad Jackson: We mainly eat freeze dried food that is reconstituted with desalinated water. And we then supplement with snacks and lots of water.
We normally work a four-hours-off-four-hours-on watch system, which means that some of the guys are trying to get some sleep while the others are on watch. The reality is that this system is very much driven by the conditions and the length of the leg.
On the more recent shorter legs we have had little sleep. For example, on the 525-mile leg from Marstrand to Stockholm we probably only got a couple of hours sleep each.
Don't Miss
CNN: How long did you train in preparation for the race? Do you train mentally in any ways?
BJ: We started training in Lanzarote in 2007 and spent about 18 months training there before the start of the race. This was a good time to be able to not only do the two-boat testing but also to iron out any of the personal issues amongst the team.
CNN: What is the prospect of being back on dry land like? Are you looking forward to a rest or will it take some adjusting to?
BJ: Like any event there are always mixed feelings when you reach the end of it. Some of us are going straight into other sailing events, some are taking a holiday or just time off with family and friends.
As this is a race with stops you kind of get used to being back on dry land, but it will good to think that we do not have to get up and leave on another leg straight away.

CNN: What comes next?
BJ: At the end of the race most guys go off to do their own things. "Ericsson 3" and "Ericsson 4" will come back to Stockholm for a season of corporate sailing and hospitality through to the autumn. Some of the crews are involved in that and the rest will have a break with family and friends and probably start the next sailing season.
E-mail to a friend