By Timothy Abraham
For CNN





LONDON, England (CNN) -- There could be help at hand for the world's number one golfer, Tiger Woods, as he aims to recover his form following a recent early exit from the British Open at Turnberry.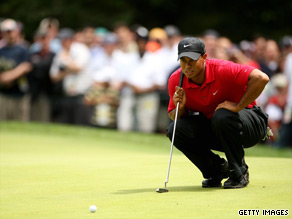 Could Tiger Woods' salvation lie with the unpredictable courses of crazy golf?
Woods missed a cut for only the second time in his professional career in Scotland so what better way to get the fun back into a failing game than to hit the "crazy golf" course?
The roots of crazy golf stretch back to 1867 when some members of the Royal & Ancient Golf Club in St Andrews, Scotland founded the MENS' Putting Club and an 18-hole course of putting greens dubbed 'the Himalayas' as a way to enable women to play the game.
Is "crazy golf" a waste of time? Sound Off below.
The social norms of the era deemed the "violent movement" of a golf swing unladylike, although putting was considered acceptable.
Joseph and Robert Taylor from Binghamton, New York were the early pioneers of introducing obstacles into the courses when they added windmills, castles, and wishing wells which have since become familiar sights on crazy golf courses around the world.
Crazy golf has grown from its humble beginnings to now be considered a sport in its own right with its own association, world tournaments and prize money which can stretch into four-figure sums.
Tim Davies is the reigning World Crazy Golf Champion having captured the title on five occasions and is convinced he would be able to beat the cream of the professional golf world at his variant of the sport.
Don't Miss
Welshman Davies, who took up the game in 2000 and is nicknamed 'Ace Man' said there are no current professionals in the sport but the prize money can still be lucrative.
He added: "The money in crazy golf is certainly not to be sniffed at and there are tournaments all over Europe and the U.S. now.
"There's no Ryder Cup of crazy golf at the moment though and that's something I'd like to see. The Europeans would win easy as well -- we have maybe eight really great players and I think the American guys are scared of playing us because they know we'd win."
Davies, 49, though is convinced that he would prove a tough test for Tiger, if the 14-time major winner took him on over the humps and bumps of a crazy golf course.
"Tiger Woods is a pretty good putter, but put him on a crazy golf course against me and he wouldn't stand a chance. Put quite simply, I'd thrash him.
"His people haven't been in touch with me yet but he knows where I am when he's ready to take up the offer of the match so bring it on."
As the sport has grown in popularity the courses have also become more eye-catching and Chris Richards at Castle Golf -- who design and build miniature golf courses around the world -- admitted courses present golfers with a different kind of challenge
He told CNN: "The average golfer only has to deal with sand bunkers and playing out of the rough but in crazy golf you've got volcanoes and waterfalls to overcome!



Take a look at the gallery of some of the best crazy golf holes around the world »
"The modern courses feature all sorts of interesting obstacles and themes which really test the ability of players whether they are taking it seriously or not."

As well as the U.S. and the U.K. crazy golf is also popular in Sweden, Finland and Denmark where players go to great lengths to stay at the top of their game.

David Hartley, who is also one of the main operators at Castle Golf, added: "Some of the Scandinavian players have their own nutritionists and sport psychologist so that probably gives you an idea of how serious some of these guys take it.
"But the game is still accessible to the amateur players - and at very little cost -- so it still appeals to people of all ages and abilities."
E-mail to a friend

All About Tiger Woods • Golf • Women's Golf • U.S. Open - Golf