(CNN) -- Usain Bolt gave further evidence if any was needed of his superlative form ahead of the world championships with an outstanding victory over 100 meters in the London Grand Prix on Friday night.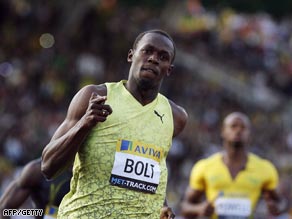 Bolt crosses the line in the 100m in London with Powell left trailing.
The Jamaican superstar ran a blistering 9.91 seconds into a strong 1.7 meter headwind to leave a world class field, including arch-Jamaica rival Asafa Powell trailing.
Compatriot Yohan Blake finished second in 10.11 seconds with Antigua's Daniel Bailey third. Powell faded to sixth in 10.26 seconds.
But the performance was overshadowed by a doping controversy in Jamaica, with the International Association of Athletics Federations (IAAF) confirming that five athletes from the Caribbean island had tested positive.
The athletes, four men and a woman, are not thought to be any of the high-profile medal winners from the Beijing Olympics and after his heat at Crystal Palace, Bolt shrugged off the reports.
Bolt told BBC Sport: "My friend called me and told me some tests were positive but I'm not worried."
IAAF spokesman Nick Davies would not identify the athletes or the substances involved.
"It's very, very early in the process so we cannot say who they are or what the substance is," he told Press Association.
Jamaican prime minister Bruce Golding has called top athletics officials to an emergency meeting in the capital Kingston to discuss the situation.
Jamaica, led by triple gold medal winner Bolt, dominated the sprint events at the 2008 Olympics and look set for a repeat in the world championships in Berlin next month.
Bolt's showdown with American Tyson Gay, who is running in the sprint relay in London on Saturday, is set to be one of the highlights.
Despite his incredible performances, Bolt says he can be beaten.
"I'm not invincible," he told BBC Sport after his 100 meter stroll, easing down as he crossed the line in his trademark style.
"I just keep having good days, but one day I might have a bad day," he added before entertaining the crowd by showing off his dance moves with two local youngsters.
In other action, Olympic pole vault champion Yelena Isinbayeva suffered a shock defeat which ending a six-year winning streak at Crystal Palace.
The 27-year-old Russian was beaten by Anna Rogowska of Poland, who won on countback after both cleared 4.68 meters.
E-mail to a friend