(CNN) -- Formula One legend Jackie Stewart says motorsport should not be run by "part-time amateurs" and has called for sweeping changes at the top of the world governing body.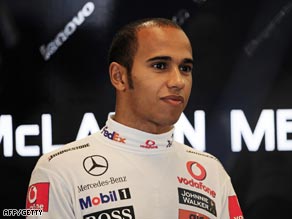 Lewis Hamilton showed improved form in first practice for the Hungary Grand PRix.
Max Mosley is due to step down as president of the FIA (Federation Internationale de l'Automobile) later this year with former Ferrari boss Jean Todt favorite to replace him with former world rally champion Ari Vatanen also in the frame.
But Stewart told CNN that neither would have his support and has called the new FIA chief to be headhunted from the world of business to put the Paris-based organization on a proper commercial footing.
"I don't think that the FIA should be run by part-time amateurs because these people don't get paid and it's not their only job in most cases," the three-time former world champion said.
"Jean Todt is far too close to Formula One and I'm on record as saying that the new president of the FIA should not come from the garage, the pit-lane or the cockpit."
Don't Miss
Mosley, who has been at odds with the Formula One Teams Association (FOTA) over caps on team spending for the 2010 F1 season, announced on July 15 that he was standing down as FIA president.
With Formula One rightsholder Bernie Ecclestone, Mosley has been a pivotal figure in its development into a multi-billion dollar global business.
Stewart said Mosley had done "many good things over the past 16 or 18 years" but now it was time for the FIA to be run by professionals not an F1 insider.
"It should go top line person who has been marketing, corporate and senior management and who is in his mid to late 40s," said the 70-year-old who added he was not interested in the job himself.
Meanwhile Lewis Hamilton led a McLaren one-two in the first practice sessions for this weekend's Hungarian Grand Prix.
The reigning world champion has endured a miserable season in an uncompetitive car, but edged teammate Heikki Kovalainen on his final lap to set a fastest time of one minute, 22.079 seconds over two sessions at the Hungaroring.
Nico Rosberg of Williams was third best while Mark Webber, coming off his first F1 win in Germany in his Red Bull, edged Kazuki Nakajima in the second Williams.

Championship leader Jenson Button in the Brawn finished 13th best, while closest title challenger Sebastien Vettel of Red Bull was nearly three-tenths faster than Button for sixth.
Saturday's final qualifying will give better clues to the eventual outcome of Sunday's race, but Hamilton said his car was much improved with changes which had "completely turned the car around."
E-mail to a friend