(CNN) -- Tyson Gay sent out a world championship message to Usain Bolt as he eased to victory in the 200 meters at the London Grand Prix on Saturday in a super-fast 20 seconds dead.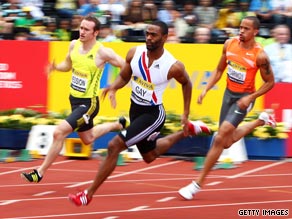 Tyson Gay powers off the bend on his way to 200m victory in the London Grand Prix.
Gay shrugged off a minor groin injury coming into the meeting to make a rapid start and had the race wrapped up as he entered the straight.
He left compatriot Wallace Spearman 20 meters adrift with Ireland's Paul Hession in third.
In May, reigning double world champion Gay set the fastest time in the world this year when he ran the 200m in 19.58 seconds in New York, but Bolt responded with a 19.59 seconds clocking in difficult conditions in Lausanne.
Bolt showed his superlative form by winning the 100 meters on the first day of the London Grand Prix in 9.91 seconds into a strong headwind and anchored Racers TC to an easy victory in the sprint relay which rounded off the action on the second day.
The Kingston-based club which included fellow Jamaicans Yohan Blake and Mario Forysth, plus Antigua's Daniel Bailey, run the fourth-best time in history, 37.46 seconds, as Bolt strode out in typical style.
Bolt and Gay are set for a massive showdown for global supremacy in the world championships next month but the American admitted his injury was still a concern.
"My groin has been tight on me, I'm trying to take a little Advil (painkillers) to run through the pain," he told reporters.
"I've got to be tough about it. I don't feel it when I run, it's after.
"I'm just taking it one day at a time, it's just frustrating. Any time a sprinter feels any type of nagging pain they get frustrated and the mind has to get strong again.
"I didn't get to warm up like I wanted to because of the situation but I don't think about limping once the gun is shot, I just run."
In other action on Saturday, Carmelita Jeter of the United States showed she will be a contender at the world championships with a 10.92 second clocking to win the women's 100m.
Double Olympic champion Tirunesh Dibaba of Ethiopia made a successful return to the track after injury to win the women's 5,000 in 14 minutes 33.65 seconds, the fastest in the world this year.
E-mail to a friend