(CNN) -- World champion Lewis Hamilton romped to a morale-boosting first Formula One victory of 2009 as his would-be successor Jenson Button again failed to finish on the podium at Sunday's Hungarian Grand Prix.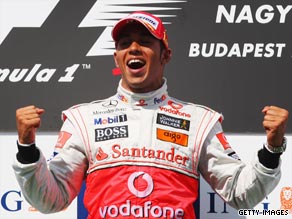 Lewis Webber celebrated his first win of a poor 2009 season after starting the Hungarian GP from fourth on the grid.
Hamilton, benefiting from his McLaren's improved KERS system after a poor start to the season, took command after pole-sitter and race leader Fernando Alonso had to retire.
Two-time world champion Alonso was left frustrated after the right-front tire on his Renault came off during the 13th lap and bounced off the track.
The Spaniard had surged ahead of the field but was visibly struggling almost immediately after his first pit stop, and eventually lost the tire cover. He went back for tire change but was forced to admit defeat on lap 16.
Renault have been punished for the incident, with the entire team suspended for the next race in Valencia after governing body the FIA ruled that Alonso had "knowingly been released from the pits without one of the retaining devices for the wheel nuts being securely in position, this being an indication that the wheel itself may not have been properly secured."
The FIA said Renault had failed to take any action to prevent the car from leaving the pit lane and failed to inform the driver of this problem, or to advise him to take appropriate action, even though he contacted the team by radio believing he had a puncture.
Hamilton won by 11.529 seconds from Kimi Raikkonen, the Ferrari driver who pipped him to the 2007 title and was third last year but who has also struggled this season.
It was big boost for Ferrari, who had last season's championship runner-up Felipe Massa ruled out of the race after an accident in qualifying saw him hospitalized and needing skull surgery.
Mark Webber claimed third place to move into second place overall ahead of Red Bull teammate Sebastian Vettel, who was forced to retire midway through the 70-lap race at the Hungaroring after a first-corner collision.
Nico Rosberg claimed fourth place for Williams, with Hamilton's teammate Heikki Kovalainen fifth ahead of Toyota's Timo Glock.
Championship leader Button came home in seventh for Brawn, but saw his margin at the top again trimmed to 18.5 points by German Grand Prix winner Webber going into the four-week summer break.
Toyota's Jarno Trulli earned the final points-scoring place in eighth, while Button's teammate Rubens Barrichello was a disappointing 10th as Brawn had another difficult weekend.
Barrichello is in fourth place overall, 26 points behind Button and 19.5 ahead of fifth-placed Rosberg with seven races to go.
Brawn lead Red Bull by 15.5 points in the manufacturers' standings, with Ferrari a distant third 70 points back.
"We felt positive that we could get a good result today but unfortunately it turned into damage limitation for our championship challenge," Button said.
"I was heavily fueled after qualifying and our plan was to get a good start, stay with the cars in front and then I was going longer at the first stop. My rear tires grained massively in the first few laps, which took away any chance that I had of keeping pace with the front-runners.
"We don't know what the problem is right now as our pace on the option tire on Friday was pretty good and we were able to manage the rear end much better than some of the others. The car just doesn't feel like it did a few races ago, but we'll work hard to identify the problems before Valencia."
Hamilton was delighted after his victory lifted him to eighth in the overall standings, 51 points behind fellow Briton Button.
"It's an incredible feeling to be back here after what feels such a long time away and given the struggles for my team," he told reporters.
"But I'm so proud of them. They've never given up, which is so rare to see in a large group of people. We didn't expect to win this weekend. Naturally we've caught up, but we didn't think we had the pace, so it's very special to win this one."
"Maybe I can speak for all of us, but today was a sad day given what happened with Felipe. We miss him, wish him well and we all wish him a speedy recovery."
Raikkonen avoided a penalty after a post-race stewards enquiry, and said he was unaware of making any contact with Vettel at the start.
"I didn't notice that I had touched somebody. I don't know what's going on. This is the first I've heard of it," the Finn said.
"I thought I had the speed to catch Lewis, but it dropped. We still had a good race, we're closer than expected, so hopefully we can keep going like this -- it's something positive for the team."

Webber was pleased after keeping his title bid on track.
"This is a little bit of a surprise after the run we had in practice on Friday, but overall I'm still happy," the Australian said. "There are positives. We've not been blown away, we're still a very much a force."
E-mail to a friend

All About Lewis Hamilton • Kimi Raikkonen • Mark Webber • Jenson Button • Fernando Alonso • Felipe Massa • Sebastian Vettel • Team McLaren Mercedes • Formula One Racing • Motorsports