(CNN) -- Michael Phelps swam the first leg for the winning U.S. 4 x 100 meters relay squad as the first day of competition in the pool at the world championships in Rome saw six world records tumble.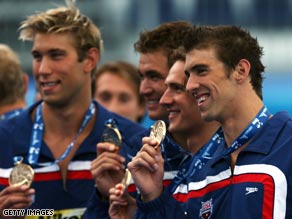 Phelps (far right) and the triumphant U.S. relay squad show off their golds.
The eight-time gold medal winner from the Beijing Olympics led off for the U.S. and could only hand over third to teammate Ryan Lochte.
But an inspired anchor leg by Nathan Adrian gave them an upset win over the world record holders France, who slipped to a disappointing third behind surprise silver medal winners Russia.
The winning time of three minutes 9.1 seconds was just outside the world record, but it it was a golden start for Phelps who will contest three relays and three individual events in Rome.
Elsewhere, Italy's Federica Pellegrini delighted the home fans at the Foro Italico by becoming the first woman to swim under four minutes in the 400m free, relegating British pair Joanne Jackson and Olympic champion Rebecca Adlington to the minor places.
German Paul Biedermann also set a world record in winning the men's 400m free.
The Dutch women's 4x100m freestyle relay team also lowered their own world record, but only after a tremendous battle with Germany who led after the first leg as Britta Steffen set an individual world 100m record.
Swedish teenager Sarah Sjostrom and American Ariana Kukors set world records in the semifinals of their respective events - Sjostrom in the women's 100m butterfly and Kukors in the women's 200m individual medley.
The record spree was widely expected due to the latest generation of high-tech swimsuits which caused such controversy in the buildup to the championship.
FINA, swimming's world governing body, has said it will try to reverse the technology with new rules coming into force in 2010.
In the meantime, experts are predicting that over 20 world records will be broken in the current championships in Italy.
E-mail to a friend