(CNN) -- Seven time world champion Michael Schumacher will make a dramatic return to Formula One as a replacement for injured Ferrari driver Felipe Massa.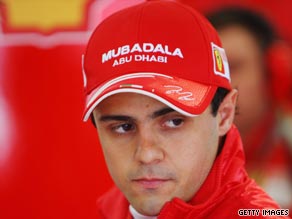 Massa continues to make good progress folllowing surgery to repair a fractured skull on Saturday.
The 40-year-old German, who retired from the sport in 2006, won five of his seven titles while competing for Ferrari, and has retained his links with the Italian manufacturer as a team advisor.
Schumacher told CNN: "The most important thing first: thank God, all news concerning Felipe is positive. I wish him all the best again.
"I met Stefano Domenicali and Luca di Montezemolo from Ferrari on Wednesday afternoon and together we decided that I will prepare myself to take Felipe's place.
"Though it is true that my Formula One chapter has closed, it is also true that for loyalty reasons to the team I cannot ignore their current unfortunate situation. As the competitor I am I also very much look forward to facing this challenge."
Schumacher's spokesperson Sabine Kehm confirmed to CNN: "He is coming back pending medical exams and will be in the Ferrrari cockpit for the next race in Valencia on August 23 if those tests go well."
Ferrari later confirmed Schumacher's return in a statement: "Ferrari intends to entrust Michael Schumacher with Felipe Massa's car for as long as the Brazilian driver is not able to race.
"Michael Schumacher has shown his willingness and in the next few days he will undergo a specific program of preparation at the end of which it will be possible to confirm his participation in the championship starting with the European Grand Prix."
Rumors began to surface about Schumacher's likely return on Tuesday, with Kehm telling CNN at the time: "There is no offer from Ferrari, but if they decided they need him, Michael would certainly weigh his options."
Meanwhile, Massa has been moved out of intensive care at the AEK military hospital in Budapest, with his personal doctor convinced he will race again.
Massa's rapid improvement since undergoing surgery on Saturday to repair a fractured skull following his crash during qualifying for the Hungarian Grand Prix, has prompted doctors to move the Brazilian to his own private room.
It means Massa is now off the critical list, although the 28-year-old will continue to be closely monitored by medical staff. Initial fears that the Brazilian may never drive again, due to concerns surrounding the sight in his left eye, also appear to have eased.
Ferrari spokesman Luca Colajanni told Press Association Sport: "The most important situation is that Felipe is out of intensive care and now in his own private room.

Felipe Massa's crash in pictures. »
"He is speaking more or less normally and he has managed his first few steps so, from a clinical point of view, everything is going in the right direction.
"There are no issues for the time being, and although we are still cautious, he is getting better and better. The situation is improving all the time.
Don't Miss
"There was some suggestion he would leave the hospital soon but he will remain in Budapest for as long as is necessary."
Meanwhile, Massa's own doctor, Dino Altmann, has told Italian sports newspaper Gazzetta dello Sport that he believes the Brazilian's Formula One career is far from over.
Altmann said: "I have no doubt Felipe will race again. I'm sure of that. The situation is still delicate but I believe his life is not in danger anymore. From the beginning I felt the trauma wasn't as extended as it was believed but the improvements he has made have gone beyond our wildest expectations."
Altmann also believes fears surrounding Massa's left eye, seemingly damaged after he was struck on the helmet by a suspension spring that had worked free from Rubens Barrichello's Brawn GP car, have eased.
"Stimulated by the physiotherapist, he showed he knows left from right and has full awareness of distance and depth," added Altmann. "His eye has been opened, with care because it is still swollen, and he has said he can see. His vision has not weakened.
"He also gave appropriate answers in three languages: Portuguese, Italian, and English. That means the brain's cognitive area is fine."
Ferrari team principal Domenicali told reporters that he has been amazed by the rate of recovery, prompting him to return to Italy.
"It's a fantastic improvement. Only days after the crash he's made encouraging progress," remarked Domenicali. "He recognised me, I greeted him and I brought him all the team's and the fans' warmth and support. He replied to me in Italian, after he had spoken to his family in Portuguese. He told me he can't remember anything that had happened: that's a good thing.
"The data is encouraging but in these situations it's better to be prudent and take one step at a time. We want him to recover as soon as possible."

Domenicali has confirmed there are no issues surrounding Massa's return, with the seat being kept warm until he is fit again, although refused to comment on reports linking former world champion Michael Schumacher with a temporary return.
"I confirmed to him we are looking forward to his return soon, that the car is his, and that as soon as he's ready he'll be back with us once again," added Domenicali.
E-mail to a friend

All About Felipe Massa • Rubens Barrichello • Ferrari SpA • Motorsports • Formula One Racing