(CNN) -- Multiple Olympic champion Michael Phelps bounced back on Wednesday to set a world record in the 200 meters butterfly after suffering his first defeat in international competition in four years a day earlier at the world swimming championships in Rome.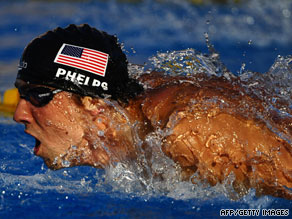 Phelps competes during the men's 200m butterfly final in Rome.
Phelps touched the wall at one minute 51.51 seconds, nearly two seconds ahead of his closest competitor. He bested his previous world record, set at the 2008 Beijing Olympics, of one minute 52.03 seconds.
The win comes after Paul Biedermann convincingly beat Phelps in the 200 meters freestyle final on Tuesday. The great swimsuit debate.
Phelps, who has won 14 Olympic gold medals in his glittering career, last failed to get gold when he was edged out by fellow-American Ian Crocker in the 100 meters butterfly at the worlds in Montreal.
Phelps had not been beaten in the 200 meters freestyle since the Athens Olympics in 2004 -- but German Biedermann produced an astonishing swim to triumph by a body length and also set a new world record of one minute 42.00 seconds.
Biedermann has now claimed two gold medals and consigned two previously untouchable world records to history at the Foro Italico. On Sunday, he brought down Ian Thorpe's iconic 400 meters freestyle mark before following it up on Tuesday.

On the women's side, Federica Pellegrini set her third mark of the championships with a new world record in the 200 meters freestyle final of one minute 52.98 seconds -- besting the previous record that she set at the event on Tuesday.
Don't Miss
Other marks tumbled as Cameron Van Der Burgh topped his world record in the men's 50 meters breaststroke final on Wednesday -- besting a record that he set on Tuesday. China's Zhang Lin also set a world record in the men's 800 meter freestyle, beating the previous world record set in 2005 by about six seconds.

Biedermann has clearly benefited from wearing the Arena X-Glide swimsuit while Phelps has remained in his Speedo LZR, a suit that was revolutionary last year but has now been overtaken by the all-polyurethane suits.
In fact, the only other Speedo-wearing world champion this week has been British woman Gemma Spofforth in the 100 meters backstroke.
With world records tumbling in nearly every event, FINA, world swimming's governing body, are supporting a return to the textile suits, although that decision may by delayed until April or May next year.

Phelps' coach, Bob Bowman, has recommended the swimmer does not compete internationally until the issue is fully resolved and Phelps himself told reporters: "I look forward to racing Biedermann next summer -- It will be fun when swimming gets back to swimming."
However, Phelps added: "I have not been beaten by the swimsuit but by a great athlete -- but a solution needs to be found to the issue of swimsuits as this is not swimming any more."
E-mail to a friend