(CNN) -- Michael Phelps wrested back his world 100-meter butterfly record after another titanic showdown with Milorad Cavic at the world swimming championships in Rome on Saturday evening.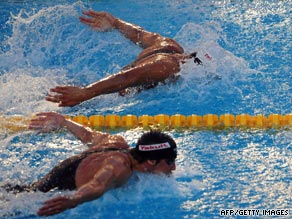 Michael Phelps, below, was neck and neck with Serbian rival Milorad Cavic in the closing stages of the race.
Olympic champion Phelps, who saw his Serbian rival beat his leading mark in Friday's semifinals with a time of 50.01 seconds, came home to win in a stunning 49.82.
Cavic, who controversially finished second behind the American in a photo-finish in Beijing last year, also went below the previous best as he was runner-up in 49.95.
It was Phelps' second world record of the meeting, and his fourth gold medal -- despite racing without the revolutionary polyurethane swimsuits that have allowed 39 records to tumble this week.
Cavic, who did wear one of the new-generation suits -- which will not be allowed next year -- finished ahead of Spain's Rafael Munoz (50.41).
Phelps came from seventh to triumph in China as he claimed a record eight gold medals, but this time overhauled Cavic from fourth place at the 50m mark.
"You can tell after my celebration that it satisfied me a little bit," Phelps told reporters. "It doesn't matter about the suit, it's about how you train.
"I set it up perfectly, it was exactly what I wanted to do. I had to be out in that first 50m within striking distance and I went out in 23.3 seconds. That's the fastest I've been out in, I haven't been within half a second of that. It's really gratifying."
In other men's action on the penultimate day of the championships, Brazil's Cesar Cielo clinched a sprint double when he won the 50m freestyle title, becoming the third man to win that event as well as the 100m at the same meeting.
He headed off world record-holder Frederick Bousquet in second and another Frenchman, third-placed Amaury Leveaux.
Britain's Liam Tancock set a new world record in the men's 50m backstroke, clocking 24.08 seconds in the first heat of the semifinals.
In women's events, Zimbabwe's Kirsty Coventry notched a third straight 200m backstroke title in a world-record time of two minutes and 4.81 seconds, beating the 2:05.24 she set in winning Olympic gold last year.
She headed off Russia's Anastasia Zueva ( 2:04.94) and American Elizabeth Beisel (2:06.39).
China set a world record in winning the 4x100m medley relay, clocking 3:52.19 to finish ahead of Australia (3:52.58) and Germany (3:55.79).
Olympic champion and world record-holder Rebecca Adlington could finish only fourth in the 800m freestyle, which was won by Denmark's Lotte Friis from Britain's Joanne Jackson and third-placed Italian Alessia Filippi.
E-mail to a friend

All About Michael Phelps • Milorad Cavic • Competitive Swimming • Sports