(CNN) -- Top seed Andy Roddick and defending champion Juan Martin Del Potro of Argentina will face each other in Sunday's final of the Legg Mason Classic in Washington after both players advanced through their semfinals in sweltering heat.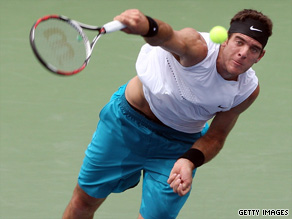 Defending champion Del Potro will face top seed Andy Roddick in Sunday's Legg Mason Classic final.
Roddick, who notched his 500th career victory during the tournament, recovered from dropping the opening set to defeat unseeded John Isner 6-7 6-2 7-5 in a repeat of the 2007 final.
It was Roddick's first dropped set during the hardcourt event that he is attempting to win for a fourth time after victories in 2001, 2005 and 2007.
World number five Roddick is playing in his first tournament since suffering a hip injury during his heartbreaking defeat by Roger Federer in an epic Wimbledon final.
Meanwhile, In the other semifinal, Argentine second seed Del Potro saw off fourth seed Fernando Gonzalez of Chile 7-6 6-3 in an all South-American clash.
Don't Miss
World number six Del Potro fired 10 aces on his way to beating Gonzalez for the first time in four meetings.
"It was tough for both of us. The court was so hot," Del Potro told reporters. "After the first set Fernando was so tired. Me too. It was very difficult for both of us. We were very tired and the sun was very strong."
Del Potro is attempting to become the first man to clinch back-to-back titles here since Andre Agassi achieved the feat 10 years ago.
E-mail to a friend